Our Approach
TrendSource understands that the process of ensuring high quality research results is both an art and a science. We understand that to provide Trusted Insight, a rigorous process must be followed, thus our programs are designed carefully and thoughtfully to accomplish this goal.
---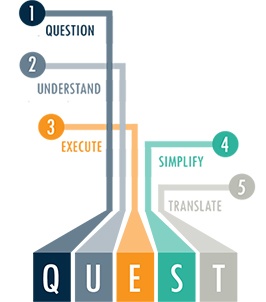 ---
Question

Our consultative approach allows us to ask the right questions to provide maximum insights and value to our clients.

Understand

Based on the information provided by clients, we estimate program benefits and determine the appropriate research methodologies to deliver the greatest benefit.

Execute

Using expert design, program management and powerful analytics, we ensure each program is correctly planned and execute to provide data that is on target and above reproach.

Simplify

Research findings are presented in clear, easy-to-intrepret summaries based on the estimated benefits found during program execution.

Translate

Research findings are converted to explain economic benefit, ROI and recommended actions. Recommended actions are tailored by organizational level, from front line to executive.
Proprietary Solutions
We take pride in completing all work in-house to provide our clients with the highest-quality service, solutions, results and insights.

Flexibility
Our framework and proprietary systems allow us to be agile and design custom programs to achieve our clients' objectives. Full control of our processes allows us to react quickly and effectively to unforeseen occurrences.

Quality ISO Certified Company
Since 2001, we have been ISO certified by meeting stringent internal standards for the development, implementation, observation, and continuous improvement of an established quality management system. As an ISO company, we strive for continuous improvement to provide our clients with the highest quality of work.

Control
The systems, tools and infrastructure that we have perfected over many years provide our clients with confidence that the appropriate safeguards are in place to manage the quality of results. TrendSource utilizes a proprietary system built by our in-house Information Technology (IT) department. No part of our process is outsourced, equipping us with full control over the outcomes.

Discipline
Potential failure points are inevitable in market research design and execution. Appropriate sampling plans, proper survey questionnaire design, solid data intake methodologies as well as clear instructional materials for Field Agents are the disciplined building blocks of a successful program.

Professional Field Agent Network
We do not outsource or utilize any 3rd parties to support screening, recruitment or management of our Field Agents. TrendSource maintains an internal database with access to over 300,000 Field Agents

Our People
Quality outcomes require both intellect and passion. Beyond the discipline that supports our scientific systems and processes, it's the people behind the work that perfect this art form.
Experience
TrendSource is a leading provider of market research services since 1989. In addition to our own internal growth and development over the past 25 years, we have been a key contributor to the success of the market research industry. As a founding member of the MSPA, we have always been leaders and innovators. Our understanding of the importance of aligning the right market research tool to answer any research question allows us to strategically consult with our clients.
Passion
After designing and executing over 4 million research projects, our people know what questions to ask and where the potential pitfalls of a project might be. Our team always expects the unexpected.
Delivering Truth
Being in the business of delivering truth requires skill. Ensuring that the right data points are collected to answer the research question requires both intellect and zeal. It's the people at TrendSource that drive this outcome for our clients.