PHASE 1
Client Objectives
A Fortune 500 Quick Service Restaurant (QSR) came to TrendSource with two key objectives:
1. Drive incremental revenue through suggestive selling
2. Ensure alignment and consistency of their KPIs – Key Performance Indicators
PHASE 2
Program Development
Through TrendSource's collaborative process, the goals of the program became clear:
• Increase fountain drink and meal combo incidents by 1 ppts
• Increase the initiative's visibility through positive team member reinforcement
• Measure service delivery to support the companies' brand re-launch
TrendSource instituted a three month reward and recognition mystery shop program focusing on driving incremental revenue while measuring the client's alignment with their operational KPIs. To ensure a successful program, TrendSource used a transparent approach which created energy and a "buzz" among front-line staff, reinforcing the desired behavior.
PHASE 3
Keys to Successful Implementation
• Interviews of key stakeholders to ensure the program aligned to organization-wide needs
• TrendSource's key role in management of the internal kick-off for franchisees, and in ensuring adoption of and enthusiasm for the program
• Recruiting from TrendSource's closed database of experienced, high-quality shoppers
• Web portal and custom reporting for real-time results, which were available to both the franchisees and key
management staff
• Including stated KPIs in program analysis, and giving detailed recommendations for improvement
PHASE 4
Analysis and Results
Through TrendSource's collaborative process*, the goals of the program became clear: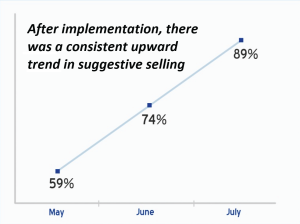 • 40% ROI – During the three month program, drink incidents increased by 1.8% and combo incidents increased by 2.2%. This increase translated into $4.2 million in incremental revenue to the client.
• The program increased customer service levels – In addition to the sales increase, the client's KPI scores increased by 12% from the first month of the program.