Every day, U.S. grocery stores lose a combined total of more than $35 million to shoplifting, which is more than double other retail industries' losses.
Where profit margins are razor thin, the smallest losses quickly add up, leaving grocers looking for strategies to eliminate theft. Yet grocery loss prevention is limited by the need to balance sales against loss prevention, by technology that has yet to rise to the challenge, and by an often apathetic legal system that declines to intervene.
Who is Stealing?
Reliable statistics on shoplifting are hard to come by—only an estimated 1/48 shoplifters are ever caught, and less than half of those enter the legal system, so finding an exact number of incidents per year or constructing a composite of the typical shoplifter is challenging.
While some is the work of premeditated criminals who quickly turn around and sell their hauls for profit (there are how-to guides on Tumblr), the majority of shoplifters are otherwise upstanding citizens; some conceal their priciest items while paying for everything else, others simply take "free samples" while shopping. And a great deal of theft, of course, comes from employees themselves who often rationalize theft as something they are "owed."
According to Dr. Read Hayes of the Los Prevention Research Council, "They certainly don't need the steak, but they talk themselves into self-justifying the behavior. It's a big corporation; they charge too much; everyone does it."
What are they Stealing?
Six out of the nine most commonly stolen items in America are from grocery stores: meat, razors, formula, cosmetics, alcohol, and over-the-counter drugs (smart phones, laptops, and clothing complete the list). Some might immediately ask, why not simply make these items more difficult to steal? Why not move the shelf-stable items shoplifters find most tempting somewhere out of reach?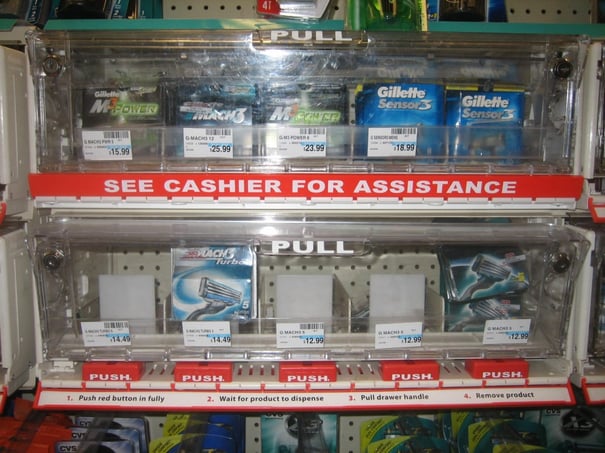 According to Jack Trlica of Loss Prevention Magazine, "It's a balancing act to protect the item and not negatively affect sales." Indeed, relocating high-risk items like razors and formula behind Plexiglas or the customer service counter runs the risk of reducing sales by making items more difficult to reach for paying customers. Grocers must decide if they prioritize ease of access for all or limiting that access to mitigate the risk posed by the few.
The New Face of Loss Prevention?
FaceFirst, a facial recognition software also used by the military and police forces, is trying to assume much of grocer's loss prevention legwork. The software compares facial scans of entering customers against a database of known shoplifters. When the system finds a match, it alerts loss prevention staff via smart phone, providing a photo and a directive for how to handle the situation. FaceFirst's CEO claims 98%-100% accuracy, though there is reason to believe the technology still has a ways to go.
Grocers are notoriously tight-lipped about the type and extent of their loss prevention measures but for now have seemingly concluded that facial recognition loss prevention is not entirely "ready for prime time" as one source told Fortune. Only Walmart has confirmed even trying the technology, but recently scrapped it: "We were looking for a concrete business rationale…it didn't have the ROI," said a spokesperson.
This means that the losses the technology prevented did not equal or surpass the cost of implementing and maintaining it. Part of the problem is that the technology only stands to apprehend shoplifters already in the system, which would not address everyday shoppers slipping a steak and lipstick into their purse or employees themselves.
Stores Can Only Do So Much
In some cases, apprehending a shoplifter isn't the tricky part—it's what to do next. When stores catch shoplifters in the act and alert the authorities, they find in many cases the police and the courts decline to take action. Of course, in the grand scheme of things, the overburdened legal and judicial system have bigger fish to fry than a stolen fillet of fish; in Dallas for example, the police don't even respond when the value stolen is less than $50.
While this is the pragmatic allocation of civic resources at work, it remains an untenable position for many retailers: "What message does that send?" Barbara Staib of the National Association for Shoplifting Prevention asked. "That anything under $50 is fair game? It's not fair to retailers to let them just get away. It's a disturbing reality."