Applebee's is making a $75 million bet on smoke and oak. The chain, which operates roughly 2,000 US locations and employs about 28,000 people, is installing wood-burning grills, ditching their conventional gas apparatuses as they seek to differentiate themselves in the "sea of sameness" that has become the casual-dining segment.
Between stove conversion, wood acquisition, staff retraining, and marketing, the move has cost the company over $75 million and will change the flavor profile of roughly 40% of the menu.
With the conversion, they are making "the biggest investment in culinary excellence in the company's history," according to CEO Julia Stewart's press release, as they moves "decisively to take back America's neighborhoods." Of course, that presumes the neighborhoods are still ripe for the taking.
You Can't Start a Fire Without a Spark
The chain, which has been around since 1980, knows it needs a spark. Its same store-restaurant sales have fallen three quarters in a row, plummeting an additional 3.7% last quarter. Even though much of the casual dining segment has been similarly cold, their CEO called the decline "unacceptable" and noted that "shifting consumer tastes and brand perception issues have challenged business performance."
"Shifting consumer tastes and brand perceptions" mean, for all intents and purposes, that casual-dining chains have fallen out of favor as millennials seek out more interesting urban dining options and comparatively less expensive fast-casual fare. Satirizing Applebee's untenable situation, The Onion playfully suggested the restaurant encourage millennials to eat there "ironically" in order to ignite sales.
Discount Burn Out
Though moves to redesign their dining room (millennials like booths, it seems) and retrain staff to emphasize customer service ostensibly addressed these struggles, CEO Stewart decided something more drastic was in order.
In the past, that probably would have meant a deeply discounted, limited time offer, but such offers have proven increasingly ephemeral and insufficient. This is because competitors reproduce their most successful ideas (such as the 2 for $20 deal), their lowered price point still does not compete with fast-casual's relative affordability, and their food, at any price, is not comparable to smaller urban eateries.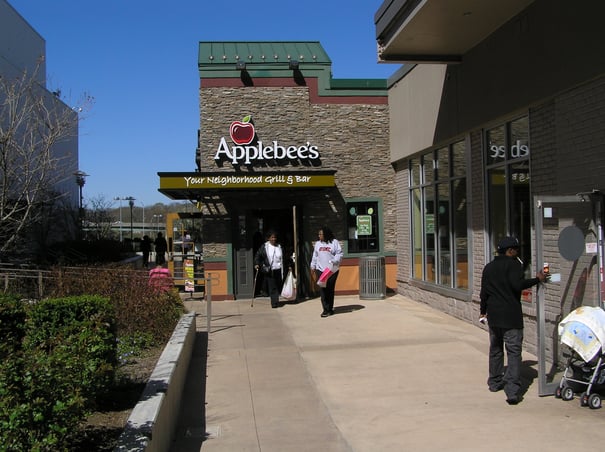 The gas-to-wood conversion will, at the very least, be difficult for competitors to copy, but they also hope it will address these discrepancies.
A Prescribed Burn
Indeed, the company needs the changes to connote freshness and authenticity—wood piles and smoke aromas will greet customers upon entry, and servers have been trained to explain how the upgrades (they are also replacing their ungraded steaks with USDA choice cuts) improve food quality and taste.
In doing so, they seek to distance themselves from casual dining's reputation for serving prefabricated food. It is a reputation with which Applebee's is familiar. Their SVP of marketing, addressing the changes, argued, "The perception is that [our food is] a bit processed. This flies into the face of that misperception." Their attendant advertising campaign also emphasizes freshness, lingering on meat sizzling atop an open flame and asking, "Does this look like a microwave to you?"
Yet the move has yet to set the culinary world ablaze, and critics, thus far, have been far from kind. But Applebee's is not alone: similar, if less expensive, thrusts for relevance at Chili's and TGI Fridays have been equally derided.
A Slow Burn
It is unorthodox for an industry leader to make such a drastic move. Applebee's knows being king of the segment is all fine and good, but a sinking tide lowers all ships, and casual-dining chains continues to take fire from both sides. In the meantime, Stewart hopes smoke and oak will "differentiate us in a noisy and crowded market."