TrendSource sent three researchers out this morning (11.29.13) to check up on the customer experiences at three of the top five retailers cited as destinations by the respondents of our 2013 Holiday Buying Intentions Study. Please enjoy below Alyssa's Assessment at Kohl's, Ryan's Report at Best Buy, and Jordan's Judgment at Walmart. Happy Holiday (shopping)!
Kohl's: My Heart Grew Three Sizes Today! (Clairemont, San Diego, CA) by Alyssa Guttendorf
As a Black Friday rookie (by choice), I didn't exactly have high hopes or expectations for my adventure today. Crowded stores and bargain-obsessed shoppers? No thank you. But as soon I walked into Kohl's, I was pleasantly surprised by what I saw, heard and experienced. Here are the highlights:
Price Comparison Made Easier with Technology
Above each section of merchandise throughout the store, there was a small digital screen that displayed the original price of the displayed items, the discounted price, and how much you were saving (I saved $61.02!).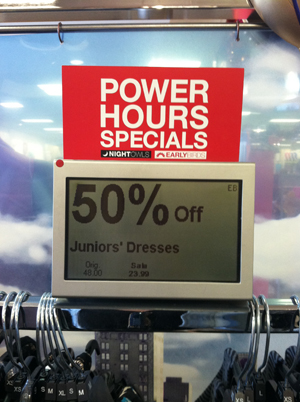 Being able to visualize Black Friday sales in such a clean, easy-to-read format at the point-of-purchase was a huge selling point (no pun intended) for me. Plus, with the digital display, prices and savings were easily updated for "Power Hour Specials" and other changes in sales. Touché, Kohl's, touché.
The Service
It's not often you hear a customer say to a sales associate, "You're great. I like you." But I did. On Black Friday, no less! In general, the customer service and demeanor of all floor employees at Kohl's was great. Although I wasn't physically approached by any associates during my ninety-minute shopping spree, the employees I questioned were pleasant and helpful.
Free Candy Canes!
Longer-than-usual wait-times are pretty much a given for Black Friday Shopping. But Kohl's made the best of this inevitable obstacle: when I got near the register (after about eight minutes of waiting), there was an employee offering out free candy canes to shoppers in line to check out! I (politely) declined, but complimented her on the store's great idea. Her response? "We try…we love our customers!" Now is that great employee training or what?
Overall, my experience at Kohl's was enough to convince me that maybe, just maybe, Black Friday doesn't have to be so bad. To paraphrase the words of a famous green grouch, "Maybe Black Friday," I thought, "doesn't have to be a bore. Maybe Black Friday…perhaps…means a little bit more!"
The Bottom Line: Kohl's knows how to make the best out of a tough situation!
Best Buy: They Nailed it! (Mission Valley, San Diego, CA) by Ryan Kelly
When I casually strolled into Best Buy this morning at 9:30 AM, I found some things I expected, and some I didn't:
The Expected:
No parking (okay, limited parking – 2 minutes, 10 seconds of driving around the lot until I found an open spot)
Packed showroom (I don't think there was a single aisle in the store without at least a few customers)
The Unexpected:
A pallet of $250 Doorbuster Asus laptops, still available and waiting inside the door
FOX News Crew interviewing shoppers as they left (It took all the willpower I had not to give them an interview, but of course – us secret shoppers have to remain undercover!)
Over the years, I've ventured out a few times on Black Friday, and today's experience at Best Buy was hands down the best I've ever had. It all came down to the service I received at the store. This Best Buy store was perfectly staffed, with all associates working hard, but available to help. The minute I lifted my eyes from the shelf to look around for an employee to help me, I was pleasantly greeted with, "Can I help you find something today?" A welcome surprise, to be sure.
After a few minutes browsing the cell phone case aisle looking for something that would fit an iPhone 5c with no luck, I was about to leave when an associate asked me if I needed help. He proceeded to escort me to the iPhone 5c section, and spent about 5 minutes with me giving advice on what would work best for me. Although this was probably the busiest day of the year for this Best Buy, I couldn't tell by the attention I got from this employee – he nailed it.
Overall, my experience was GREAT. The worst thing about my experience was probably my checkout wait time (7 minutes, 12 seconds), but I was honestly in such a good mood by that time that I didn't mind.
The Bottom Line: Best Buy knows how to execute a high-volume sales floor.
Walmart: A Ghost Town Makes for a Pleasant Shopping Experience (Ashland, OH) by Jordan Bowditch
To my surprise, my Black Friday shopping experience at Walmart was absolutely normal. In fact, if I hadn't ventured over to the electronics department, I wouldn't have even known it was Black Friday at all. Even then, there weren't THAT many people, and the rest of the store was business as usual. That being said, after talking with some associates, apparently Black Friday is now basically a thing of the past – enter Thanksgiving Thursday. Ok, the name isn't very clever and needs some work, but you get what I'm trying to say. Walmart jumped the gun, starting Black Friday on Thursday night at 7pm, and from what I understand, it was a madhouse. Lines for high ticket items like TVs wrapped around aisles throughout the store and took upwards of an hour to reach the front, where most customers simply received a rain check certificate to order the item online at the discounted price. Checkout lines were no different, and there was a ridiculous wait to exit the store with two employees diligently checking receipts to minimize shrinkage. They even had two police officers standing directly outside the exit as a final line of defense!
So, not too much to report about my Black Friday shopping experience at Walmart, other than it looks like big box retailers have phased it out and moved it to Thanksgiving evening. I guess next year you'll hear about my Thanksgiving Thursday experience!
The Bottom Line: Black Friday at Walmart has moved to Thanksgiving Thursday (?) – this morning was just another day in the life.
Coming Soon: wINputters share their Black Friday experiences!
Stay tuned to the TrendSource Trendings blog next week to hear how Alyssa, Ryan and Jordan's experiences chalked up to those of wINputters nationally
Please share your experience in the comments, or find us on Twitter @TrendSource