Pieology and Blaze are both in the midst of rapid expansions as they compete to become the nation's fast-casual pizza of choice. Both have over 100 national locations and impressive sales numbers: Pieology's average unit volume last year was $1.5 million, Blaze's system wide sales were $100 million and are projected to spike 85% this year.
Their restaurants and menus are strikingly similar, but the two chains have diverged in their expansion and marketing strategies as they try to differentiate themselves in an increasingly crowded dining segment.
Like Chipotle, But with Pizza
The establishments essentially function in the same manner. Customers choose their crust, sauce, cheese, veggies, and protein options while a staff member assembles the pie before them in real time. The similarly sized pizzas (Pieology's are half an inch larger at 11.5 inches) are then baked at super high temperatures for roughly 3 minutes.
As the three-minute cook time suggests, the lines move quickly—Blaze boasts it can serve 210 guests every hour. This speed, above all else, is paramount to the business model as it allows customers to dip in for a quick lunch during the workweek. Pizza is no longer a pressing time commitment but just another choice in the fast-casual food industry.
Customization Key
While there are several pre-envisioned (but not premade, of course) pizzas available, customers enjoy imagining their own. Since the pizzas are personal sized, customers do not have to agree and share toppings, overcoming one pain point in the pizza industry.
"I can have 1,000 people in my store and make 1,000 different pizzas, and they walk out happy," one Pieology franchisee boasted. Similarly, Blaze's COO noted, "It starts with the millennial generation and technology and being in control of your life. The guest decides."
Community vs Celebrity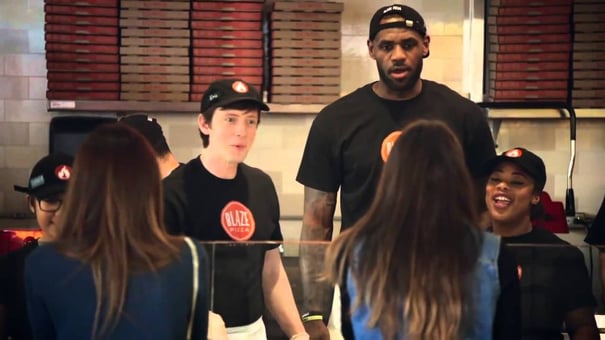 Though their restaurants and menus are remarkably similar, Pieology and Blaze have differing strategies for establishing themselves at the top of the industry; Pieology focuses on the local community, Blaze on national celebrity.
Pieology hopes its focus on community at each location will earn customer appreciation and drive sales. For example, one location named a pizza after a recently deceased customer and donates the pie's proceeds to the Hodgkins Lymphoma Society. The chain also encourages its franchisees to experiment with local flavors in their toppings—the Guam franchise offers two varieties of Spam, for example. And each location strives to locally source as many toppings as possible.
Though second in the game, Blaze implemented a growth strategy based entirely on franchising, which allowed them to be the first fast-casual joint in town more often than not as they established units without putting any money down. Founder Rick Wetzel—yes, that Wetzel—recently said that every available Blaze franchise territory in the United States had already been spoken for meaning franchisees are lining up just as much as customers. As the chain has already opened an additional nine locations last month, it doesn't seem like it will be slowing anytime soon.
Contrasted with Pieology's local emphasis, Blaze builds a national identity among its franchises with minimally varied locations and menus, national supply chains, and celebrity backers. LeBron James, an early investor in the company, recently posed as an employee at Blaze locations in Pasadena and Chicago in what appears to be an ongoing popup publicity stunt.
Rising Dough
Though certainly the biggest, these are not the only two games in town and new competitors continue to appear. One late entrant said recently, with an abundance of optimism, "There's going to be room for a lot of different companies in the segment. If you look at sandwiches, for instance, there are a lot of companies. And they're all different."
Wetzel disagrees: "In my mind," he said, "the national players are already on the field."
They both know there is finite space for fast-casual pizza operations, they just disagree about whether we have hit peak saturation. Both, no doubt, recall the lessons of the frozen yogurt and cupcake bubbles and are cautiously aware that the segment cannot sustain too many operations attempting to expand too much too quickly. They just want to make the cut.