In the fiercely competitive restaurant industry, the fast casual segment has proven to be a quickly rising star. It is clear that many of the core qualities of fast casual restaurants have resonated with consumers, leaving other restaurant segments scrambling to adapt to this changing customer preferences. What has contributed to the ascent of fast casual restaurants, and what does it mean for the future of the restaurant industry?
Millennials and Fast Casual: A Perfect Pairing
The most pressing question when looking at the rise of the fast casual industry is why has it exploded in popularity while much of the restaurant industry lags behind? The answer is mainly a result of the strong adoption of fast casual restaurants by the millennial generation. Millennials have gravitated to fast casual restaurants for a variety of reasons. They often find themselves pressed for time, but increasingly reject fast food, which they view as generally unhealthy. Millennials also prefer the customization options offered at fast casual restaurants, and have shown a willingness to pay more for tastier, healthier, and more customized options.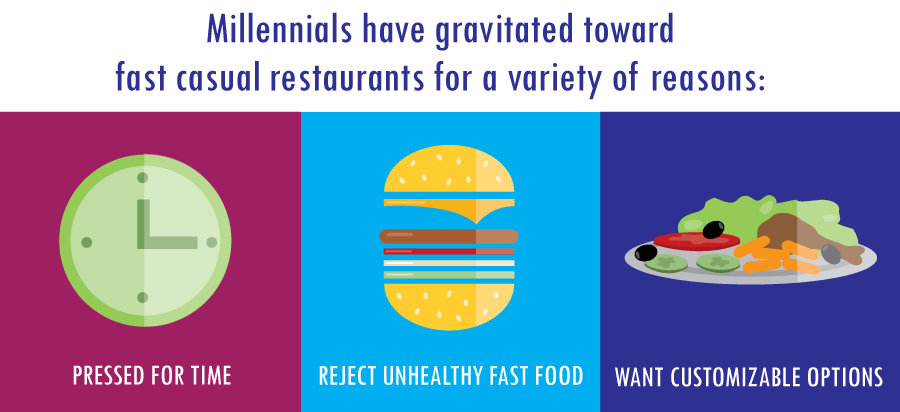 Consumer Tastes Shift towards Sustainability and Local Options
The growth of fast casual restaurants can also be partially attributed to the shift in consumer preferences and popular national diet trends. Trends such as sustainability, locally sourced products, and healthier kid's meals are becoming more commonplace in the restaurant industry, and often align with many core principles and initiatives of popular fast casual restaurants. For example, Chipotle announced in 2014 that they would only use GMO-free ingredients, becoming the first fast casual restaurant to do so. Shake Shack is also a pioneer in this respect, designing eco-friendly restaurants out of recyclable and sustainable materials, as well as serving only vegetarian-fed, humanely raised beef in their hamburgers.
How are Other Restaurant Segments Attempting to Catch Up?
As fast food and casual dining restaurants are losing market share to fast casual restaurants, they are vying to gain customers back by attempting to appeal to millennials. McDonald's has attempted to replicate the customization aspect of fast casual by introducing a build your own burger experience, while Wendy's has remodeled restaurants in an effort to make them more comfortable. Subway, while already embracing the customization aspect of fast casual, has added premium healthy ingredient options such as avocado and chopped salad options. Based on the core changes undergone by fast food restaurants, one can't help but wonder if the future of the traditional fast food model is in jeopardy.
Casual restaurants are also getting involved in the fast casual space in different capacities. Successful Asian-themed chain P.F. Chang's launched an up-and-coming fast casual spinoff called Pei Wei, and Buffalo Wild Wings invested in customized pizza chain PizzaRev and street-style taco chain Rusty Taco.
Stay tuned for a breakdown of the historical changes of the casual dining industry and where it stands today.