Another year, another batch of Mother's Day insights for retailers! Many consumers are already in planning mode (others haven't given it a thought just yet). According to our 2016 Mother's Day Consumer Insights Study, the majority of respondents begin thinking about their Mother's Day purchases the month before the holiday; however, they don't actually make their purchases until a week before.
Mother's Day Budgets
The majority of respondents plan to spend $100 or less this year for Mother's Day gifts (79%) and 64% of those plan to spend the same amount as they did in 2015. So, here's something to consider: if most respondents plan to spend $100 or less for their Mother's Day purchase, how does this directly impact which items are eliminated from consideration for purchase? For example, Mom might want jewelry, but this purchase may not fall within the allotted budget this year.
A Consumer Disconnect
There appears to be a true disconnect between what mothers desire for Mother's Day and what consumers intend to give as gifts. Most noteworthy, 53% of mothers desire spa gifts, yet only 20% of respondents plan to give this as a gift despite the fact that many spa gifts and packages are within the budgetary confines of the respondents (under $100). Additionally, while flowers and greeting cards are "go-to" gift items for Mother's Day, the results show that these are not the most-desired gifts for the holiday.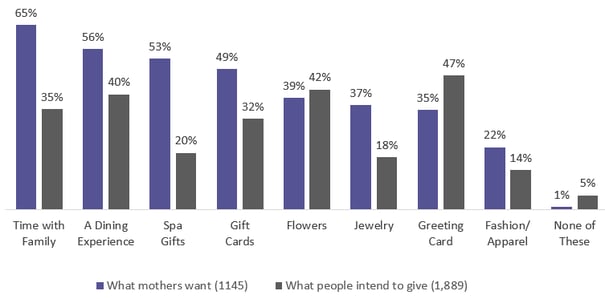 Retailers: Cater to Moms or Buyers?
Inevitably, one has to wonder how retailers respond to the disconnect. Do they cater to what mom wants or what consumers are most likely to purchase?
Download the full Mother's Day 2016 Consumer Insight Study to learn more about what moms want for Mother's Day.
.