Revisit the topic with us in our followup, Banked it or Tanked it: Looking Back on our Food and Grocery Market Research Blog
Papa John's just renewed its sponsorship deal with the National Football League, a long-standing partnership between one of the nation's most popular pizza chains and its favorite sports league. And for good reason. They've had same store sales growth each year of their sponsorship and, as the NFL has grown, they have as well. Last quarter, their revenue rose 6% from $399 million to $423 million and same store sales went up 3%-5%. During peak hours, they claim to process 1,000 orders/minute.
Papa John's NFL sponsorship highlights the importance of live viewership in an on-demand era, the power sports continues to wield over consumers' attentions and buying habits, and Papa John's meteoric rise to the top of the industry.
You Can't Hide those Live Eyes
Sports in general, and the NFL in particular, has cornered a finite resource: live eyes. In an era of DVRs, on-demand streaming, and literally hundreds of television channels catering to every niche imaginable, the NFL is one of the few things most Americans can agree upon. Live viewing, of course, means commercials and in-game advertisements cannot be skipped over or tuned out, giving advertisers the most bang for their buck.
It's a big bang, to be sure. There are all kinds of numbers out there illustrating the NFL's viewership dominance—here's one that should sum it up pretty nicely: seventy-five percent of television owners watched at least one NFL game in 2014. That, right there, is reach. And Papa John's is capitalizing on it.
"Our partnership with the NFL, in particular, has been exceptional," Papa John's SVP of Marketing Robert Thompson gushed. "One of the reasons the NFL is such a strong marketing opportunity is because of the number of people that watch the games live whether it be at home or in the stadium."
Not Playing Games with Advertising
All those live eyes seem to be paying attention. Papa John's is, according to Turnkey Sports & Entertainment, the most recognized NFL sponsor, surpassing Gatorade, Pepsi, and Coors. Over half of NFL fans correctly identified the chain as the "Official Pizza of the NFL", no doubt drawing deep associations between the brand and its iconic endorsers, Peyton Manning and JJ Watt. In addition to being the official league sponsor, the Papa also worked out deals with 23 of the league's 32 teams.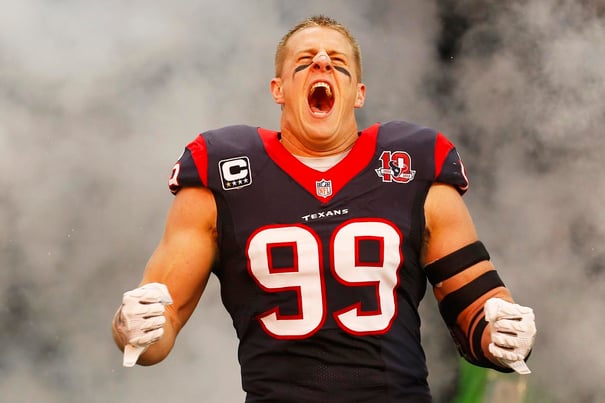 However, their sports sponsorships aren't just on the gridiron. They are also the official pizza of MLB, and their recent Papa Slam promotion—which gave customers 40% off pizzas when any MLB player hits a grand slam—has been a quiet summertime success. They also sponsor NBA teams, youth baseball academies, and college athletics. In fact, they recently threw a pizza party for the entire Clemson Tigers football stadium after the team completed a season undefeated.
To Know Him is to Love Him
So, suffice to say, if you watch sports, you've heard of Papa John's—they've got their name out there. But it's not enough to be known, you must also be liked: It's all fine and good to get them in the door, but you must keep them coming back.
It seems they are doing just fine in that regard—they recently posted an American Customer Satisfaction Index score of 82/100 and, for the fifteenth time in the last seventeen years, earned the title America's Favorite Pizza Place.
What's their secret? "We spend more," COO Steve Ritchie noted. "Quality isn't cheap." Indeed, Papa John's spends roughly $100 million annually to improve their pizza quality, turning to fresh sauce, dough, and cut vegetables, and customers certainly seem to be responding.
Papa's Growing Progeny
What are they doing with all this success? Growing. The chain has an ambitious multi-year expansion strategy that includes opening 200 new locations across the nation every year. To accomplish this, they are relying heavily on franchises, and even subsidizing some of the franchise fees to induce greater interest. NFL stars Peyton Manning and Jerome Bettis count themselves among franchisees, with Manning personally owning thirty-two restaurants.
While Pizza Hut is the biggest and Domino's has been killing it in digital ordering among millennials, Papa John's has distinguished itself in a crowded industry by pairing America's favorite sport with what they hope will continue to be its favorite pizza. Emphasizing advertising and quality, Papa John's has broken through the pack and looks to be heading into the end zone, though new opponents continue to give chase.
Revisit the topic with us in our followup, Banked it or Tanked it: Looking Back on our Food and Grocery Market Research Blog