Following in the footsteps of its YUM cousin Pizza Hut, Taco Bell is betting customers value convenience over quality, declaring "Easy Beats Better" despite the surging success of fast-casual restaurants. As YUM CEO Greg Creed told Bloomberg last year, "To stay relevant in culture now requires us to innovate in technology just as much as we've innovated in food." This means emphasizing low cost and novel food items while focusing on digital ordering and delivery—the border will now make a run for you.
Convenience on the Menu
Abandoning previous, unsuccessful efforts to tap into the fast-casual market, Taco Bell has now gone all in on the type of food that made it famous.
This year alone, the chain expanded to a ten-item dollar breakfast menu, which increased transactions by 8% last quarter, and continued to introduce strangely crave-able items. These include their new Naked Crispy Chicken Chalupa, wherein a thin piece of fried chicken serves as the tortilla; the Quesolupa, a Chalupa shell full of melted Jack Cheese; and their reintroduced $1 Beefy Crunch Burrito, which comes stuffed with Fritos.
These offerings represent a clear departure from efforts to appeal to health conscious consumers, targeting the cash and convenience conscious instead; Taco Bell shed their pretensions along with their corn salsa and cilantro dressing.
Deliver Us, Taco Bell
An early adopter of in-store kiosks and already considered a technological leader among fast food chains, Taco Bell is pushing their digital platforms to the next level. "We've got to find ways to make it easier for customers to get our brands," Creed told investors earlier this month.
Expanding their digital customer base makes sense: Taco Bell reports that order values increase by 30% when placed digitally due to order customization and easier checkout options. Furthermore, digital platforms drive customer loyalty and increase purchase frequency.
Only recently fast food mobile ordering required in-store pickup, but in 2015 Taco Bell partnered with DoorDash to introduce delivery in 90 locations; they now offer delivery in over 500 nationwide. With wait times averaging only 38 minutes from order placement to arrival, and customers rejoicing across social media, establishing and extending their delivery capabilities allows them to fully reach customers through digital means.
Websites, Apps, and Bots
Taco Bell's recently redesigned website (ta.co has to be the greatest URL ever), and their incredibly popular mobile app are two such digital means. Through both, customers can select in-store pick up or delivery, customize and repeat their orders, and gain access to loyalty and savings programs.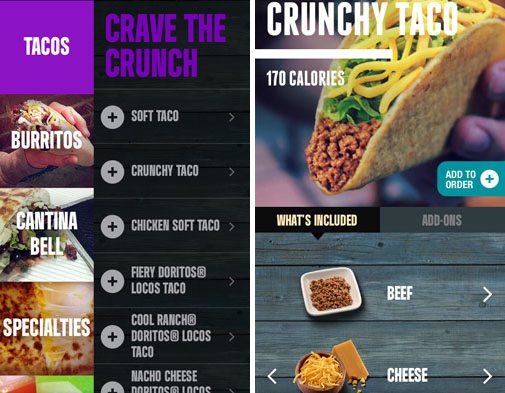 And if that weren't convenient enough for customers, the company is now testing a chatbot. Described as a "taco butler," TacoBot allows users of the in-company chat platform Slack to order delivery through instant messenger. Introduced in early April, it answers questions, recommends items, and can even crack the occasional joke.
These offerings seek to, "Make the brand more accessible wherever and whenever our fans want it," according to Taco Bell's digital innovation director. Given Taco Bell's recent hot streak, perhaps easy does in fact beat better.