Grocery Outlet Bargain Market is expanding. The discount grocery chain, which grossed $2 billion in sales last year, currently operates 251 locations but plans to expand to 376 by 2020, predominately in southern California and the mid-Atlantic.
Though moving into a crowded national and regional field, their ability to offer discount prices without the atmospheric trappings associated with discount chains has primed them to make a big splash and send ripples through the industry.
Discounting Non-Defectives
So what, exactly, does Grocery Outlet do? A useful place to start is with what they do not do: they offer no coupons or promotions, they have no deli, bakery, or butcher, and rarely keep the same item for very long. Instead of a traditional shopping experience, the operators aspire for a "treasure hunt" of sorts—something more akin to shopping at a Nordstrom Rack or Ross, where consumers are rewarded for their legwork and never know what great deal waits just around the corner. This mystery keeps them coming back, and the fear of missing out on a limited savings offer compels them to pull the trigger faster. "If you find something you love, you might not see it again," cautioned one owner/operator.
They also do not offer private label items like another recent entrant to the SoCal grocery market, Aldi's. Instead, they rely on what they call "opportunistic buying" from major manufacturers, leveraging surplus items, seasonal closeouts, and discontinued items into huge savings. They also procure and sell items that are not entirely up to manufacturer's standards but are still fit for human consumption. No, we are not talking about expired, spoiled, or defective products—the cereal is not stale and the popcorn still pops. Rather we are talking about popsicles with slightly crooked sticks and snacks in re-sealable packages that might not entirely reseal.
The result? Big savings. Like a $1.99 pint of Hagen Dazs, a large supreme Red Barron frozen pizza for $2.99, and a 2lb block of cheese for $4.99.
Don't Look the Part, Just Be the Part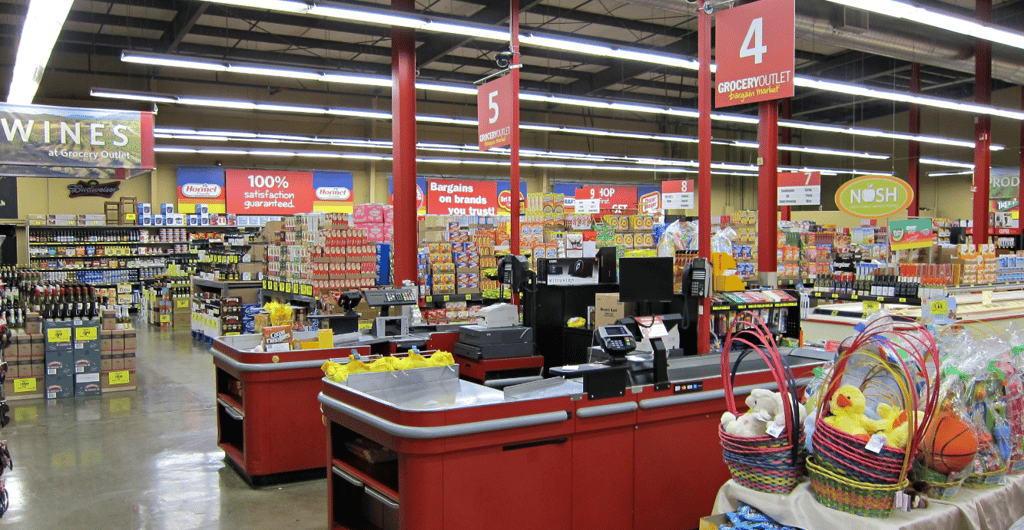 Their other secret to success: they don't look or operate like a typical discount store. Indeed, "New customers are often shocked at the quality, not only of the products, but of the stores," claims one buyer for the chain. "A lot of customers have a vision of what a discount grocery store looks like: dusty shelves, dented cans, expired products. But Grocery Outlet is nothing like that."
Furthermore, whereas other discount markets slash overhead by limiting customer service, Grocery Outlet doesn't require a deposit for shopping carts, they happily bag customers' purchases (and don't charge for the bags), and will even offer to carry those bags out to the parking lot.
The Democratization of NOSH
And that's not the only way they are challenging the discount grocery mold. They do not aspire to be mere peddlers of quintessential industrial discount foods like Top Ramen and Cheese Wiz. Instead, they currently carry over 500 NOSH (Natural, Organic, Specialty, and Healthy) items from popular brands such as Evol, Annie's, Amy's and Quorn.
"A number of our customers would never be able to buy a natural, organic, or specialty item at traditional retail. But because of the way we procure products, they can buy those items here and feel good about what they're feeding their families," added VP Weldon Weatherly.
They also offer some of life's luxuries at low prices as well: craft beer, European chocolates, high-end wine, and super premium ice cream have all been featured at Grocery Outlet locations. And while the market offers an average 40%-70% discount throughout the store, in the NOSH category savings average 80%.
When Opportunity Doesn't Knock
But how can their opportunistic purchase model, which constantly rotates the discounted items available, sustain a grocery store and ensure customers that it can consistently meet their shopping needs?
"We don't ever want to disappoint our customers by being out of stock on key items," VP Weatherly acknowledged. Thus, in order to ensure regular stock, they have identified key areas such as dairy, which, when not available for opportunistic purchasing, are offered nonetheless at prices comparable to Walmart. The situation is not ideal, of course, since the majority of their profit margin comes from their opportunistic buys, but is necessary to appeal to customers looking for a complete, one-stop shopping experience.
If They Can Make it There…
The southern California grocery market is, to say the very least, quite competitive. Their success there will ultimately determine the viability of their expansion aspirations. With Aldi already setting up shop, and new grocery concepts emerging seemingly every day, they hope a steady stream of surprises will train customers to be loyal treasure hunters in their grocery aisles.