"I keep getting older…They stay the same age." – Matthew McConaughey, "David Wooderson"
Dazed and Confused
We can only hope that this year's back-to-schoolers cultivate a better academic career than that had by Matthew McConaughey's character in Dazed and Confused. But, you have to have the right tools to build it. It all starts with school supplies. That's right! And, 91% of survey respondents stated they intended to buy them for their students heading back to school this fall. Budgets are down this year for school supplies. 41% planned to spend more than $100 in 2013. In contrast only 29% percent of this year's respondents indicated that they will spend $100 or more. Like 2013, 87% of respondents will head to big box retailers to make their school supply purchases. For 40% of those who indicated that they have a specific brand in mind, Crayola was the brand of choice.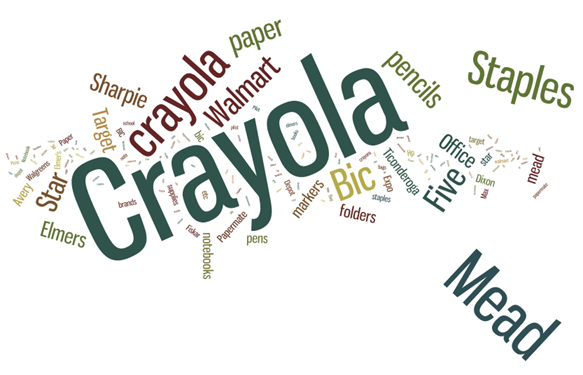 "Does Barry Manilow know you raid his wardrobe?" – Judd Nelson, "John Bender"
The Breakfast Club
Everyone wants to save his or her kid from the ridicule that can come with a not-so-hot school wardrobe. 83% of respondents stated that they intended to shop for fashion/apparel during this back-to-school season. 80% of those shopping will spend $100 or more (a slight increase over 2013's 79%) and 20% will spend over $300 which is flat year-over-year. Although 72% of those shopping for fashion/apparel stated that they did not have any brands in mind, those who intend to seek out brands (28%) will hunt for Aeropostale, Levi's, and Nike. Aeropostale seems to have staying power for back-to-schoolers as it showed up in the Top 3 desired brands in this category for two consecutive years. American Eagle and Old Navy moved down the bench to make room for Levi's and Nike which were not as desired in 2013. Interestingly, when self-reporting stress levels associated with purchases for fashion/apparel, this category was rated the highest at 22% in contrast to 13% for accessories.
Accessories are essential in pulling together any back-to-school look. 50% of respondents stated that they intended to purchase accessories, less than the 76% that intended to do so last year. Jansport remains the number one brand for Accessories. 23% of respondents who will seek out a specific brand in this category this year want Jansport.
"I asked for a car, I got a computer. How's that for being born under a bad sign?" – Matthew Broderick, "Ferris Bueller"
Ferris Bueller's Day Off
Hewlett Packard (HP) would disagree! In 2013, HP was tied with Apple at 31% for sought after brands for the back-to-school buying season. 2014 is HP's year as they surpassed Apple by 5%. 33% of respondents will seek HP and 27% will seek Apple computers/electronics for their back-to-schoolers. Given the price tag for this category of goods, it is not surprising that 55% of respondents plan to spend $300 or more which is the highest out of all categories included in this survey.
A peek into sentiment regarding this category yielded interesting results. Respondents indicated that they would be spending the most on computer/electronic products, and this category displays a higher rate of positive emotions such as excitement and hope compared to other categories; however, it also displays a higher rate of nervousness associated with the purchases in the category. In contrast, accessories and school supplies have the lowest rate of expenditure as product categories, and they also have the lowest rate of excitement, hopefulness and nervousness associated with them.

For the complete "syllabus" check out our Back to School Consumer Insights Study!