Another successful AEP Secret Shopping season here at TrendSource has come to a close! We completed an impressive ~4,000 compliance audits in an eight-week period. Take a look at our overall completion numbers and percentages below. The below shops were completed between 10/1/13 and 12/7/13.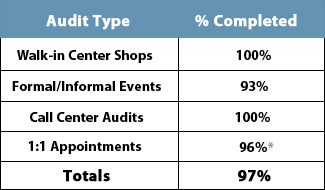 *This percentage considers shops cancelled due to schedule issues as complete. With the inclusion of appointments impacted by client/sales agent scheduling issues (incorrect phone numbers, sales agent unavailability, etc.), we would measure in at a 73% completed rate for appointments.
Insights Gained from AEP 2014 Compliance Monitoring Execution
With such a large volume of shops completed in our compliance monitoring program this year, we noticed trends, and wanted to pass along these insights. Below are the trends we observed across a variety of plans and regional areas, and are not specific to any certain plan(s) or area(s).
Prospective Member Call Centers Were VERY Busy
While posing as prospective members, TrendSource Field Agents (secret shoppers) completing call center shops experienced highly overloaded call centers. Field Agents experienced long hold times, disconnections, and in some cases were even told to call back at a later time, or they would receive a call back later. This was an issue we noticed for a variety of different clients and call centers.
Languages are Changing for Interpreters Services Calls
CMS has communicated they will be using French and Tagalog for their Interpreter Services Monitoring calls in 2014 (in place of Russian and Korean languages). Starting in October, we began receiving requests to modify the languages we use to conduct Interpreter Services monitoring calls. We have Field Agents in our database that are fluent in these new languages and are ready for 2014 calls!
Marketing Materials – To Bind or Not To Bind?
One of the themes we noticed this year was more and more plans moving towards using a Bound booklet that contains all of the necessary enrollment kit items (Enrollment forms, Summary of Benefits, Plan Ratings Information and Multi-Language information). These bound kits were used in place of these items being provided as loose materials.
We know that it can sometimes be difficult for secret shoppers (CMS secret shoppers AND TrendSource Field Agents – not to mention potential beneficiaries!) to easily find all the necessary plan information. Including everything in one centralized kit is a great way to convey all the necessary information, as well as to cover your bases for CMS shops/audits.
Since our Field Agents take photos of all marketing materials received during in-person shops, a number of our clients have used the images of these enrollment kits and materials as evidence in discussions around deficiencies found by CMS for enrollment kit violations seen at particular events.
Event Types Logged Incorrectly
During AEP we also experienced situations where marketing events were logged as the incorrect type. For example, our Field Agents were under the impression they were attending an informal event, and the event would end up being more formal in structure. Alternatively, our agents would be expecting to attend a formal event presentation that would end up being more of a casual conversation.
This was typically the result of events being uploaded incorrectly to HPMS.
These inaccuracies can cause confusion for individuals attempting to locate the event (especially when the events are advertised ahead of time).
What's Next?
So, what's happening at TrendSource now that AEP is over?
Ongoing Program Kick-Offs
We all know that CMS recommends ongoing Secret Shopping monitoring as a best practice. Using Aging-in scenarios we can continue completing audits for our clients all year long. Clients get a lot of value out of continuous data, and it also allows us to tweak and modify the programs to best suit their needs on an ongoing basis.
AEP Wrap-up Sessions
TrendSource is now in the process of scheduling Post AEP Wrap Up sessions with many of our clients. This is an important part of the cycle of the secret shopping program, in order to best meet client objectives, and to provide the best possible service moving forward. Time to start preparing for 2015!
Call Center Monitoring Ramp Up
We've also been ramping up our call center monitoring programs to get our clients feedback prior to and during the CMS call center monitoring season (historically February through May of each year).
We are seeing an increase in TTY and Interpreter Services calls in order to help our clients prepare for these CMS calls.
While we're happy that 2014 was our most successful AEP season to date, that doesn't mean we're stopping there. With the insights we gained from this season, we're already well underway with preparations for 2015! Click here to see last year's AEP 2013 recap!