Strategic Consulting
Working with Fortune 500 companies, TrendSource clients don't just expect design and execution of their research projects. They expect a partner that can drive strategies forward. TrendSource Strategic Consulting allows clients to rely on experts to support them in this process from the beginning.
Fitting the Pieces Together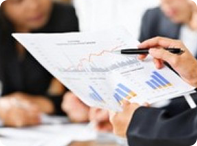 Which Research Methodology to use?
There are so many research options available today to support organizations in collecting the information they need to drive actionable results. Our clients often ask us which data collection methodology would be best for a particular research objective. As a result, TrendSource visualizes a perspective on how all of our services tie together to propel customer loyalty for our clients.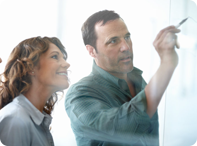 Leveraging the Strengths of Each Methodology
Our approach helps to explain the role that each TrendSource service plays in the process of developing customer loyalty. Each research methodology provides different types of data, to ensure that they are appropriately aligned to the stages in the process.

Support with Organizational Change Initiatives
The TrendSource approach is well-suited for organizations that are embarking on a major change initiative to revolutionize their customer experience. It provides a proven and prescribed approach to achieving this goal.
Having worked with Fortune 500 companies, TrendSource is armed to fully support organizations through the consulting process and collaborate in each of the following steps:
Research

Ensuring that a scientific approach is used to collect the necessary research.

Plan

Devising new operational standards that will drive a different and positive customer experience.

Support

Supporting training and communications with cost-effective solutions to effectively launch the initiative.

Analyze

Research findings are presented in clear, easy-to-intrepret summaries based on the estimated benefits found during program execution.
We understand that driving major initiatives, especially for large organizations, can take time and require endurance as well as a lot of hard work. Our systematic program approach is designed for continuous improvement, utilizing complementary methodologies to facilitate and monitor success over time.