Long before consumers crowded into Apple Stores and Tesla Showrooms, Niketown was way ahead of the curve. Nike direct to consumer sales began in 1990 with Portland's Niketown, and, as technology has changed the ways consumers and brands interact within the retail landscape, Nike has emphasized and grown its DTC channel. Last quarter, DTC accounted for 27% of Nike's $8 billion in revenue.
With an expanding set of retail superstores (not to be confused with their surplus "factory stores") boasting cutting-edge technology and entertainment options, Nike has taken the lead in DTC while managing to continue growing the world's most iconic athletic brand. Heidi O'Neill, Nike's President of Global Direct to Consumer,says it comes down to the customer. "Consumers just expect more. They expect more immersive experiences at retail."
The Air Up There
Nike definitely has the immersive experiences covered. Their enormous superstores in New York are a sign of things to come,
Consider their massive (55,000 sq/ft) multi-floored Soho store, complete with a basketball half-court (with 23-foot-tall ceilings to honor their most iconic endorser, Michael Jordan) and soccer sports trial zones. It also comes equipped with a treadmill monitored by cameras to capture running stride data and make shoe recommendations while the customer, surrounded by monitors, is given the impression of running in Central Park.
Other cool bells and whistles abound. Customers can customize jerseys and shoes on-site and have them delivered same-day to their homes or hotel rooms. The dressing rooms are furnished with adaptive lighting that shows customers how their athletic wear will look in a yoga studio, at the gym, or on a night run. And, since it is a Nike store, it also boasts the single largest sneaker wall in the world.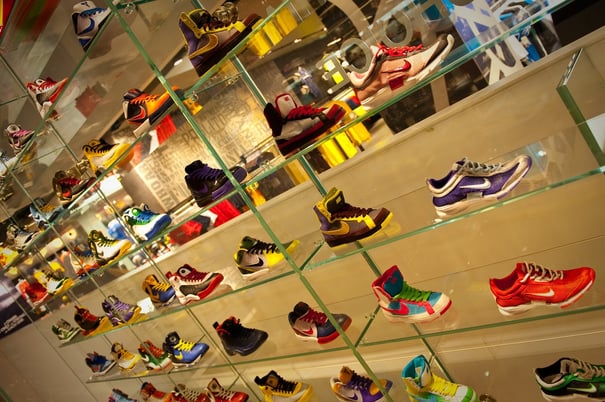 As they expand, Nike plans to tailor each location to its host city, emphasizing locally popular athletic activities, making each store regionally specific while also reliably Nike. With aspirations to increase DTC business by 250% over the next four years, these locations will be a large part of their increasingly vast retail footprint.
Gotta Be the Shoes
The company understands that in an era driven by social media and e-commerce, they must make a direct connection with their customers; as marketing professor Bettina Cornwell observed, "Traditional advertising is not reaching as many of these consumers as the brands would like to reach."
These stores, then, serve several purposes. First, they are, in a sense, giant brick and mortar billboards that remind the world who the biggest name in shoes is.
Second, they give Nike control of the brand experience within their own retail location, as opposed to surrendering control to the likes of Footlocker, Big-5, and other retail partners because, as one analyst pithily summarized: "You work with retailers but you don't control how the brand is displayed."
Their superstores also allow Nike to acquire data about consumers and build direct relationships with them through digital marketing and their new Nike+ app. Alex Becker of Digital River explained: "If a consumer chooses your product over a competitor's on a retailer's website, you might have won a sale—but you've lost the opportunity to build a relationship. A distinctive, compelling and focused public-facing brand experience, complete with direct-to-consumer online sales, lets manufacturers control and cultivate relationships with customers that transcend retail channels."
Retail Friction
Nike stores do have tangible benefits for its retail partners beyond elevating the brand in customers' minds. For example, the Nike stores can become a proving ground where new campaigns and products can be tested in a controlled, small-scale environment before being scaled out to retail partners, who can avoid duds and anticipate hits.
Of course, some are bound to be put off by manufactures trespassing into retail, namely the manufacturer's retail partners. The owner of a running store chain articulated these fears, saying, "Companies like Nike tell us with a straight face that online sales really doesn't do that much volume and it is to increase awareness of the brand, that we shouldn't be afraid. Time will tell whether that is a good story to put us at ease, or whether it could be the truth."
Yet others, like Dick's Sporting Goods CEO Edward Stack are not concerned: "Their direct-to-consumer business is something that they will continue to grow. But I don't see that accelerating in any meaningful way."
Nike and Dick may disagree on that last point.