Once a business pioneer and technological innovator, Sears department stores towered over competitors as Americans eagerly awaited its catalogs, and browsed its locations for hardware, clothing, and everything in between. FDR even once famously said that if given the chance to hand one book to a Russian Soviet, it would be a Sears Catalog.
Time has not been kind to the giant, which announced last week they would be closing ten more stores after their 11th consecutive year of sales declines. As one business professor puts it, "They were aiming at today's consumer rather than thinking of tomorrow. They didn't anticipate. They didn't keep up."
Cataloging the Challenges
Sears, of course, is not alone. Most department stores have experienced woes as traditional malls fail to meet modern consumers' demands—something Sears is quick to point out. In a study of national department stores, the Wall Street Journal suggested drastic measures would be required to return anchor stores to profitability—like closing at least 1/5 of them.
But the mall's decline alone can't explain the "bloodbath;" Sears has taken. Some hits have been from market changes, sure; however, its most severe wounds have been self-inflicted. For example, the brand has regularly robbed Peter to pay Paul, selling many of its best locations to shore up its financials, losing its scale advantage in the process.
Branding Problems
Another major problem for the department store: nobody really wants to wear their clothes. In a recent survey, Sears recently ranked last among women's favorite clothing retailers, well behind Kohl's 17% and even trailing Goodwill. They haven't helped themselves in this regard either, selling their popular Land's End brand to stay afloat.
But Sears has never been just about clothing. Their signature hardware products—including Kenmore appliances, Craftsman tools, and DieHard batteries—were often the draw. But all three brands have suffered from the company's decision to introduce competitors such as Stanley and LG, which increases profits in the short term, but consumes the company's own market share and brand recognition in the process.
When it was the only store or catalog in town, Sears was your first and only choice, and heck, you could get stockings, windshield wipers, and a crib all in the same trip. Now that another (e)commerce giant has taken its place as king of convenient one-stop-shopping, there is simply no draw to the aging behemoth.
The Size of the Sears Tanker and the Motion in the Ocean
Sears Catalog was, for much of its life, at the technological forefront. Across great distances, it offered access to the newest tools and gadgets, sent chickens through the mail, and came complete with textile swatches and wall paper samples. Getting back to that pole position is of utmost importance, as Sears promises investors to turn it around and provide "industry-leading innovation."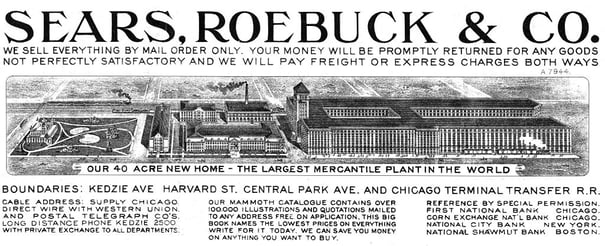 This includes plans to further merge the big-box brick and mortar with the digital, offering online customers opportunities to "meet with an expert" in store; in-vehicle pickups, returns, and exchanges in under five minutes for items ordered digitally; and further integration of the ShopYourWay app.
Bridging their branding and technological gaps could bring Sears to great heights once again. At this point, however, they are up against the ropes.