Target recently established new expectations for their suppliers, which begin rolling out at the end of the month. They include tighter deadlines for deliveries (and no grace periods), fines of up to 5% of the order cost for late deliveries (up from 1%-3%), and penalties of up to $10,000 for inaccuracies in product information. In a letter CEO Brian Cornell wrote to suppliers, he explained the goal is to "lower missed sales for all of us," by reducing customer's number one pain point: out of stock items.
Rafting Upstream on the Amazon River
So why the change? According to CIO Mike McNamara, "Stock accuracy is so important when you're making a promise to someone remotely." This is especially true when that promise is measured against Amazon, whose dominance in online sales comes with an unfortunate twist: Target helped Amazon reach its position by outsourcing its digital sales to the growing giant between 2001 and 2011.
In 2015, Amazon claimed over 24 times Target's online sales. As Target tries to play catch up after ten years out of the game, Amazon continues to press its advantage, establishing standards—such as free returns, one-day delivery options, and massive selection—that customers are coming to expect. This puts pressure on Target's inventory management to be more dexterous and responsive to online consumers' expectations. Managing their supply chain is just one part of a broader digital expansion strategy.
Despite the occasional, unfortunate hiccup, Target seems up for the task. Since CEO Brian Cornell came aboard in 2014, they spent over $1 billion on e-commerce capacity and installed online shopping through InstaCart in over 500 locations. By 2017, they will have spent $5 billion on these efforts, which include the enormous task of both internally and externally optimizing their inventory.
Reducing Stock to Increase Capacity
Installing radio frequency identification to better track their inventory is one step on the path to inventory optimization. Another is reducing choices in certain departments in order to focus on major categories (apparel, furniture, etc.) because, when it comes to something like dental floss, how many size and flavor options do customers really need? Reducing the number of SKUs in non-prioritized aisles leaves the retailer more space and energy to focus on the most in-demand items.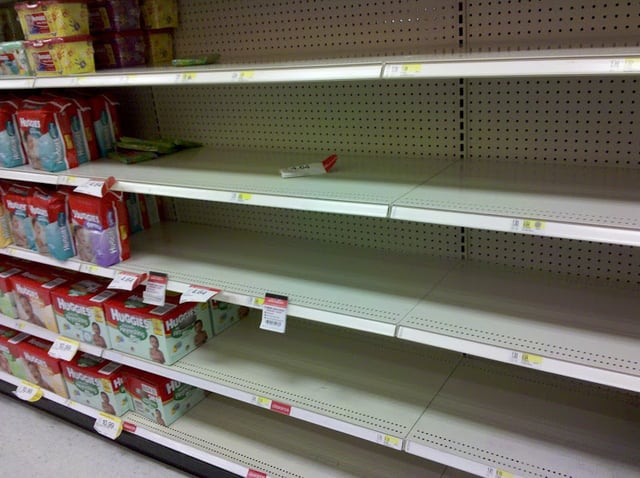 Target also directed suppliers to reconsider their packaging based on how often a product sells and how much shelf space it consumes. If the shelf can only hold 18 jars of peanut butter, why ship them in quantities of 24?
By asking these questions, Target reduced its in-store and online out of stocks by 40% last holiday season. As one analyst puts it, "Everything can move faster… they…have less stuff in the system."
Ruling Suppliers with a Velvet Glove
Having cleaned their own house, Target now turns to their suppliers with new delivery standards. Different industries will have different deadlines, with household goods, paper goods, and center-of-store grocery expected to comply by June; health and beauty in July; and apparel, home, and electronics in August.
Target is managing the rollout carefully, meeting with over 200 suppliers in person. "Obviously there were concerns, so we listened to those and we felt very good with where we are going with our vendor partners," Cornell said afterwards.
Already boosting their online sales 34% last quarter, compared to Wal-Mart's 8%, Target is readying itself to be a retailer of the future; their new policies tell us they will use force if necessary to drag their partners with them.