At first glance, retail apps seem like an easy natural fit to enhance the customer experience, drive loyalty, and increase revenue. App usage is growing very quickly, especially in the retail vertical. Below are a few stats to illustrate how far they have come and where they are today.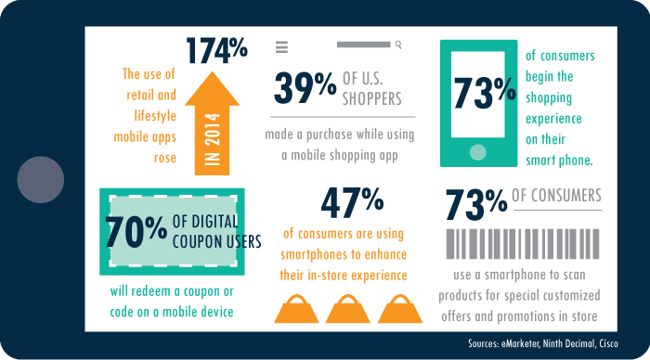 Retail App Obstacles
By all appearances, retail mobile apps are teed up for greatness. Oftentimes, great things must overcome hurdles to achieve their full potential. Retail mobile apps have their share of challenges. Recently, RetailMeNot commissioned Forrester to evaluate the state of mobile apps for retailers. Below are key barriers identified during the study:
Barrier 1: Reach
Customer expectations are continuously increasing. Many believe that they can get what they need within moments of that need. Can apps help retailers keep up? 84% of consumer time in non-native apps is spent in five or fewer apps. And only 5% of the share of U.S. minutes used on apps is spent in shopping apps (Forrester). It's a lot to take on in such a small time window, especially with the knowledge that few retailers will ever be able to harness the mass reach they truly want.
Barrier 2: Attrition and Lack of Use
Currently, collecting retail apps is not a focus for consumers. 60% have two or less and 56% of users are engaging with their retail apps monthly or less frequently, which makes the following attrition factors even more arduous to overcome:
Meeting consumer expectations of features to avoid app deletion

Maintaining and increasing interest and engagement after downloading

Competing with mobile apps that offer similar features/functionality


Barrier 3: Timing
When looking at the complete shopper's journey and how it is supported by mobile moments, retailers only have control of a handful of those moments – specifically, during the exploring and buying phase of the voyage. The biggest opportunity is in the influenced-sales moments which are price comparisons, product ratings and reviews, as well as digital in-store orders. In fact, this segment is predicted to account for $689B by 2017.
Recommendation to Move Past the Hurdles
It is difficult to convince a consumer to download a retailer app and engage with the brand. Retailers need to give them a reason to do so. The solutions need to be creative.
Expand Reach:
Leverage partners to share moments within the same business system. Choose partners that can drive new customer acquisition and incremental sales. The right partner will provide a platform where consumers typically spend most of their time – for example, content and service apps, such as Yelp.
Reduce Attrition and Increase Use:
Understand customers and define their mobile moments and what drives them. Ensure apps are designed with their needs in mind. Build on convenience. 63% of consumers who prefer mobile apps over browsers state convenience as the factor (Forrester).
Capture More Consumers During the Right Time:
Understand where and when consumers are utilizing their smartphones. It's important to reach consumers when they are exploring and/or ready to buy. Promotions that create a sense of urgency while in-store or nearby and brand insertion within a guided selling moment are good examples of being in the right place at the right time.


What About Insights?
Consumers are hesitant to enable features within apps that provide insights. Data is the key in determining customer needs. But app features aren't the only way to gain insight via mobile app. A mobile integration module is customizable for retailers to capture data that they can then turn into insights. In addition, data is an important component when developing relationships with partners that will help increase mobile moments. Click below to learn more about TrendSource aAmplify.