Though it's tempting to make her the butt of every joke, Kim Kardashian-West just added a potentially very large asset to her extensive portfolio. She is now serves as an advisor to, and spokesperson for, ScreenShop, a fashion shopping app that, when all is said and done, may prove to be the rare case in which an In Style headline was not chock-full of hyperbole: "Kim Kardashian-West's new fashion app will change how you shop," the mag declared.
Here's how ScreenShop works: users upload photos from their phone—be they screenshots from social media, movies, or of the stranger across the street. Using an artificial intelligence (AI) workflow, the app identifies the garments, searches through the roughly ten million items in its catalog, and then directs users to similar items available through the app's ~500 fashion retail partners. Users make their purchases in app, meaning they don't have to exit or disrupt shopping to pull the trigger on a particularly snazzy set, and ScreenShop pulls an undisclosed commission on every sale. Search results can be grouped by price tier, meaning users can find an affordable path to emulate (no, not imitate) their favorite looks from popular culture and daily life.
While disruptor apps are nothing new, it is worth noting that ScreenShop neither makes nor sells clothes, and doesn't seem to be all that interested in either. Rather the app acts as an affiliate sales channel, funneling shoppers to predetermined purchase options through their sleek and savvy platform, speaking directly to millennials while also telling us about the future of e-commerce.
"What we built is the Shazam for fashion," boasted co-founder Jonathan Caras.
She Who Influences the Influencers
Particularly as brick and mortar sellers—and fashion retail in general---struggle to keep pace with online shopping trends, the app may provide an immediate return-path to relevancy for forgotten retailers like JC Penny, already counted among its partners. The app further boasts top-tier fashion house Herve Leder and department store Saks Fifth Avenue, middle-of-the-road retailers like Nordstrom Rack and Topshop, urban lines like Yeezy (all in the family!), and fast-fashion discounters like Forever 21 and H&M.
Dutifully playing the role of publicity machine, Kardashian-West has much to say about the app's current and future promise, even demoing it at press events using screenshots from the film Clueless. She gushed, "Just being able to seamlessly convert any screenshot into an instant digital fashion store—the concept of that is just so fascinating." In a separate interview, she explained, "Shoppers are so much more visual and so much more creative than maybe in the past. I truly think if you see something worn a certain way, if you market it that way and merchandise it that way in the store, people will buy it. So I think it's just making everything easy, having the tools and just showing people."
And this is just the beginning. As with most startups, there is a snowball effect at work: the more popular the app becomes, the more retailer partners it will amass, the more users it will attract, and the more accurate and diverse the selection will become, drawing more users yet. Already, founders have plans to move into men's and kids' fashion after the app moves out of Android beta.
On the Contemporary Desire to be Similarly Different
ScreenShop is not the first effort to monetize the new ways people find fashions, namely through social media. Department stores and manufacturers have long experimented with the influencer economy, paying internet celebrities and bonafide stars to pose in and post about their fashions on Instagram in particular but also Facebook and SnapChat.
What separates this from other attempts to monetize celebrity culture and social media browsing is that it toes the line between inspired-by and taken-from. Indeed, allowing shoppers to choose among a variety of price-tiered options is at the core of ScreenShop's early success, believes co-founder Jonathan Caras: "What we've found is people are less interested in buying the exact same thing. They were interested in being presented a wide variety of similar items and through this key insight we clarified the product's vision."
Such flexibility also appeals to millennials keen desire to insert their own unique aesthetic identity (dare we call it their "brand"?) into their fashion. This gives shoppers the opportunity to buy something inspired by a treasured social media denizen, but not steal the entire look outright (as if you could afford to anyway—more on that later).
Co-founder Molly Hurwitz certainly understands the distinction: "I don't want to spend $1,800 on a dress, but I do want the inspiration. The idea is to be able to take your inspiration from anywhere, from watching a movie to browsing online or a magazine."
Though the difference may be subtle, allowing millennials the opportunity to riff off of, as opposed to conform entirely to, the images and fashions they see around them speaks to them in a way other enterprises simply do not.
Yes, the difference between riffing off and ripping off is subtle, but we all know it when we see it. Try this: Despite his best efforts at explanation, we all know Vanilla Ice stone cold stole the bass line from Under Pressure and then mumbled over the top of it. That's thievery. But what Sam Smith did with his gently-lifted Tom Petty riff? That was more inspired-by territory than stolen-from. Do you see the difference?
Some of Us are Just More Equally Beautiful than Others
The difference between replication and riffing also points to the sheer degree of difficulty involved in trying to look like a social media (or IRL) celebrity.
OK, let's tackle some quick truths. We are all beautiful. Uniquely so. Like snowflakes. But let's not be obtuse and pretend we don't understand that some people, by popular perception and possibly godly proportion, are deemed more conventionally attractive than others. Stealing styles from these people, while certainly fun in a "Stars, they're just like us!" sense, can quickly fall apart.
First, there is the issue of cost. Anybody who thinks Salma Hayek is actually wearing Revlon everywhere she goes, or that Taye Diggs drapes himself in Dockers, is fooling themself. Stars look how they look because the world isn't fair, sure, but also because of all the darn money they put into that look. If Jason Wu loved us as much as he loves our former first lady, he could make any of us look good. We just can't afford him.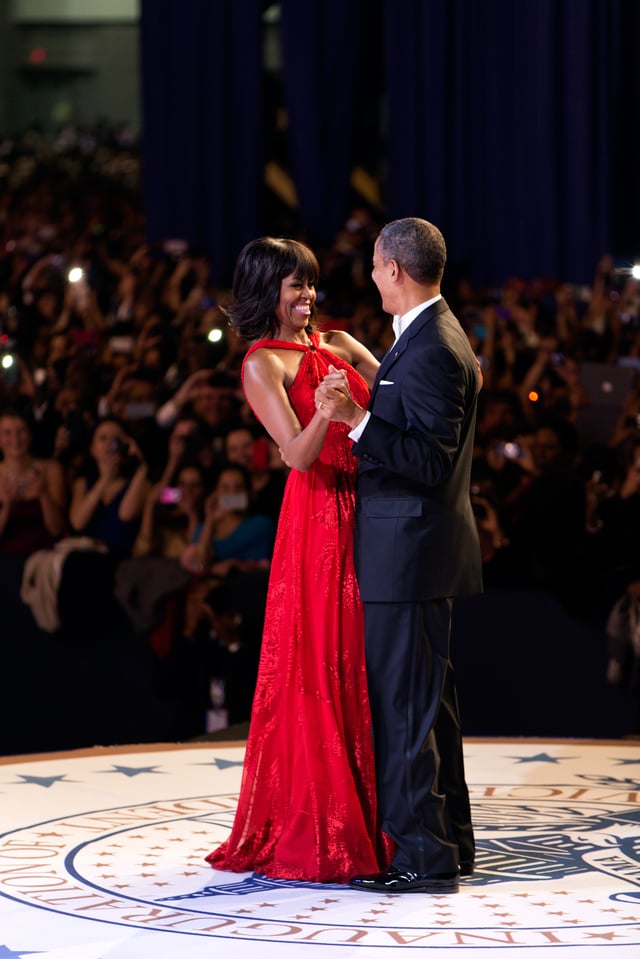 And that brings us to the issue of fit and proportion. Look, not everybody was meant to wear that J-Lo Versace number—probably only like five people on the planet were, actually. But it looked great on her because it was made specifically for her. Absent that level of custom design and tailoring, the looks of our corporal betters will not be flattering on us. Said simply, biting celebrity style will ultimately take a chunk out of your self-confidence. Just ask the Jezebel editor whose efforts to emulate Beyonce's style via the Ivy Park line left her feeling like a "Beyonce-themed sausage link."
Open Platform Vs. Closed System
By remaining uninterested in producing or selling fashion, and pulling its action off the back side of transactions, ScreenShop has also managed to avoid the pitfalls of similar AI apps such as Asos's virtual search. These apps generally try to keep things in house, meaning that though Asos might have been first to the party with the technology to turn screenshots into recommendations, they kept that technology locked within their own native app, greatly limiting pricing tiers and individuated options.
Other apps trying to turn profits off social media browsing, such as LIKEtoKNOW.it, rely on a network of paid influencers, and only offer the real deal, full cost, sponsored goods shown in their posts. For most millennial shoppers, this is unaffordable and for many it is undesirable.
Even more problematic, LIKEtoKNOW.it has likely ran hard into a painful sticking point for those trying to monetize the ways social media personalities and celebrities influence their followers: more often than not, influencers' followers do not follow them all the way to checkout. This is also why department stores have found their attempts to leverage social media influencers less than fruitful.
In fact, only one percent, according to Nielson, of paid, tagged social media posts generate an actual online purchase. A lot of that has to do with how people navigate their phones—social media time is for social media, not clicking out of app to purchase something. That just interrupts people's flow.
By design alone, ScreenShop may have found a way around this. As a dedicated shopping app, users can save screencaps of looks throughout the week, accumulating them in their screenshot folder without venturing out their current app. Once they open ScreenShop, ideally during second-screen-shopping time (which also may coincide with sip-and-click time) their library of potentially liberated fashions awaits. As tautological as it sounds, allowing millennials to control their shopping experience makes them want to experience shopping.
Mystery Shops: What the Fashion Retail Market Research Says
Sounds great, right? There's just one thing—you still gotta make sure the sucker floats! All of this sounds like the coolest thing since the Red October Air Yeezy 2s...but does it actually work?
This humble blogger downloaded ScreenShop last weekend and played with it for several days, offering some anecdotal evidence about the prices still skewing a bit towards the costly side, as well areas the app has yet to entirely hit its mark—it regularly confuses short dresses for two-piece options, and has trouble discerning different types of footwear. But anecdotal evidence is limited at best, misleading at worst.
And that's where mystery shopping market research comes in. We're not going to talk about how we basically invented the industry (Kim K isn't the only great visionary) but instead merely point out that a mystery shopping program would be of great value to both the app's design team, as well as any current or potential fashion retail partners looking to throw their trilby hat into ScreenShop's ring. Unleash the power of online mystery shops to ensure that your designs are popping up within the app when they should, and that your checkout seamlessly integrates into the app itself.
There is always some confusion and anxiety when a new technology comes along and threatens to change the game. What are the kinks in the app, when is the right time to jump in, and what is the typical user experience? These are all questions a good mystery shopping program could answer.
What does the Kardashians' rise to fame and power say about our contemporary moment in this post-post modern milieu we call popular culture? Well, there are some questions mystery shopping just can't answer.