Have you seen those Walmart and Google Home commercials yet?
They've got some big news to share, or at least they hope it will be big news. Walmart has joined Google Express—Google's online shopping and delivery platform—as the companies join forces in an effort to craft an Amazon buster.
With hundreds of thousands of Walmart items now available on the platform (more than any other retailer), the companies are incentivizing curious consumers to give the new system a whirl: shoppers who purchase a Google Home device through Walmart will be given $25 off their first Walmart order through Google Express.
But let's back up, consider how we got here, and then follow the online market research to see if this deal can soak up some of Amazon's market share.
Wait...What's Google Express?
Yeah, some of us didn't know either. A little background: Google debuted Google Express in 2013. Available on desktop, mobile, and through voice-command via Google Assistant, the service offered free two-day delivery from a host of the nations' most popular retailers. But they also charged a $95/year fee akin to a Prime membership without any of the many additional perks Prime members enjoy.
Seeing the error in their Amazon-mimicking ways, Express ditched the annual membership fee this year, instead offering free two-day delivery on shopping carts that met retailer's free delivery threshold--$35 for most, $25 for some. With retail partners including Costco, Target, Bed Bath & Beyond, PetSmart, and Walmart, Google finally believes they have a worthy rival to one of the most vital segments of Amazon's business.
Quick side note: Google Express should not be mistaken for the two other Google products that power its partnership with Walmart: Google Home and Google Assistant. Home is the actual device that people place in their homes, which responds to voice commands using Google Assistant AI technology. Though Google would never want it explained this way, Express is Prime two-day delivery, Home is the Echo, and Assistant is Alexa.
These three technologies combine to make Google Express a voice-commanded, smart shopping system. Their recent digital commercial reintroduced the public to the service and its stable of partners, which basically amounts to a post-Amazon support group. Indeed, though they never name the behemoth, their message is clear: use Google Express to order from any retailer not named Amazon.
And we all know who the biggest retailer not named Amazon is.
The Ones Standing on the Wall
Walmart's struggles against Amazonian tyranny have been well documented. With their massive brick-and-mortar presence and a giant network of distribution centers, they are the best-positioned retailer to take on the giant, and they have been making great efforts to catch up to Amazon technology (namely their Jett acquisition).
But, like Velma Kelly, they simply cannot do it alone. Enter Google, looking to get the biggest Big-Boxers on the block into its Express platform.
With Walmart shopper profiles loaded into Google Express, customers can fill their Walmart shopping cart via voice command through their Google Home System. By giving Express access to their profiles, shoppers enjoy re-order features and highly personalized recommendations based on their previous purchases.
The alliance makes perfect sense, expect for one potential sticking point. Customers will be able to compare retailers side-by-side within the Express platform, meaning that Walmart goods, prices, and availability will all be measured against their biggest non-Amazonian rivals: Target and Costco.
CEO of Walmart's e-commerce (and former Jett CEO Marc) Lore has at least publicly, leaned into the challenge, inviting the comparison: "We think that's the way it should be. An open and transparent shopping universe is good for customers."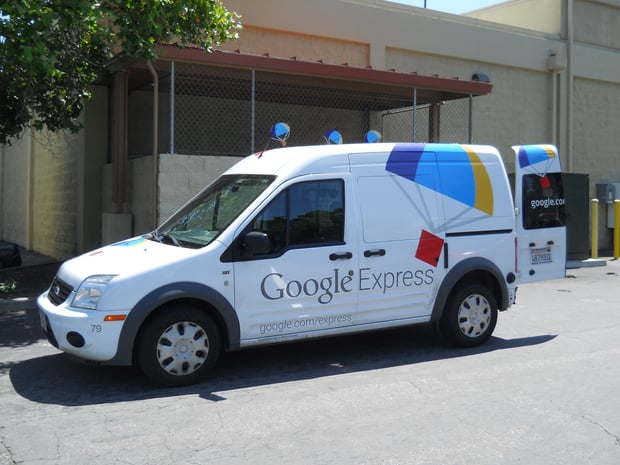 Google and Walmart Give You "Anything You Want"?
So, how does this all work then? The most recent commercial, set to Roy Oberson's "Anything You Want," lays it out pretty nicely.
A typical American family builds a shopping list throughout the day's hustle and bustle, adding household and recreational items. But this isn't just any shopping list—it is digital, and voice commanded, with different family members saying, "Ok Google, add X to my Walmart shopping cart." Google Assistant offers recommendations based on previous orders, and simple reordering of past purchases.
Of course, for Amazon users, this is nothing new. But for Echo holdouts, Walmart loyalists, and shoppers who just need a bit of a nudge, this offer, particularly backed by a $25 incentive, could be appealing.
Breaking

into t

he Amazon EchoSystem: A Competitor Analysis
Walmart's press release promised even bigger things to come in the next year on Google Express. With plans to "leverage" their 4,700 storefronts and fulfillment centers, they hope to create "customer experiences that don't currently exist within voice shopping anywhere else."
We all can fill in the blank that "anywhere else" represents—Amazon, and their Alexa-powered Echo system. These experiences include discounted in-store pickup and voice-ordered fresh groceries across the country, both currently unavailable through Prime (though with the Whole Foods purchase, who knows for how long?).
But, as for whether this partnership will actually work, a competitor analysis gives us some reason to doubt.
That's because voice-command isn't, according to James McQuivey, the main reason for Amazon's successes—instead, it is just another benefit of Prime membership, another reason to keep purchases moving through Amazon. Thus, "having a stunning voice strategy won't be sufficient for Walmart to manage a big [e-commerce] comeback, because it's not persistently present in customers' minds the way Amazon is."
That doesn't mean to say they shouldn't try, of course. Just that there will be some obstacles along the way.
The biggest one has to do with competitive pricing. Amazon notoriously undercuts manufacturers with private label offerings, and leverages its market share to drive down prices. It is also happy to subsidize its less profitable services to keep the cash flowing. In short, by controlling nearly every aspect of its business and purchase funnel, Amazon has a lot of pricing tricks up its sleeve that will not be available to a Google-Walmart partnership.
The thing is though, in a few years' time, there may not be much market share to even compete over. That's why, even at a competitive disadvantage, Walmart and Google are both scrambling to build themselves a loyal base before Amazon becomes synonymous with voice ordering convenience.
It's been over a decade since Google became a verb. Now, Google and Walmart hope Amazon, Echo, and Alexa will not soon become verbs in their own right, verbs that mean "to voice-order without effort or second thought."