Urban Plates--the freshness-forward, Cardiff, CA based restaurant chain serving sandwiches, salads, and braises in a made-to-order cafeteria format since its opening in 2011--is in the middle of a carefully-executed expansion strategy that will see it triple its store count by 2023.
Why has the chain succeeded where so many other similar concepts have failed? According to co-founder and CEO Sadar Nadhir, "Urban Plates is changing the way America eats. Guests desire affordable high-quality, customizable meals served in a convenient yet inviting atmosphere with fine-dining hospitality." Though Nadhir may be inclined to exaggerate for obvious reasons, it's hard to argue with his restaurants' successes.
Named one of QSR Magazine's fast casual restaurants to watch in 2017 and one of CNBC's ten restaurants to watch in 2018, Urban Plates has been humming along quietly, securing funding, carefully expanding, and tinkering with the menu, and of course, all of this has been guided by exhaustive rounds of market research.
And boy do we love market research around here, so we are putting in the food service market research to understand Urban Plates' uniquely urban appeal and coastal fixation, its omnichannel excellence, and its path forward. And, in the interest of full disclosure, it should be noted that your humble blogger recently went on a date night to urban plates and, while this blog is not a food review forum, I was quite impressed and took a lot of pictures. Alright, order up!
Urban Plates is Popular Among the Coastal Elites You Always Hear About
With an average check of roughly $15, Urban Plates sees peek traffic in both lunch and dinner dayparts, and both are characterized by long lines out the front door and the awkward collective peep-and-creep hovering for an empty table after ordering. The food is just as popular via delivery and in-store pickup, especially during the weekday working lunches where orders are literally flying out the door. In fact, with a wide-ranging selection of proteins, cuisines, and sides, it is not uncommon for people, according to Nadhir, to visit the restaurant twice in the same day, which, sure, count me in for a salad lunch delivery and a on-premise braised dinner.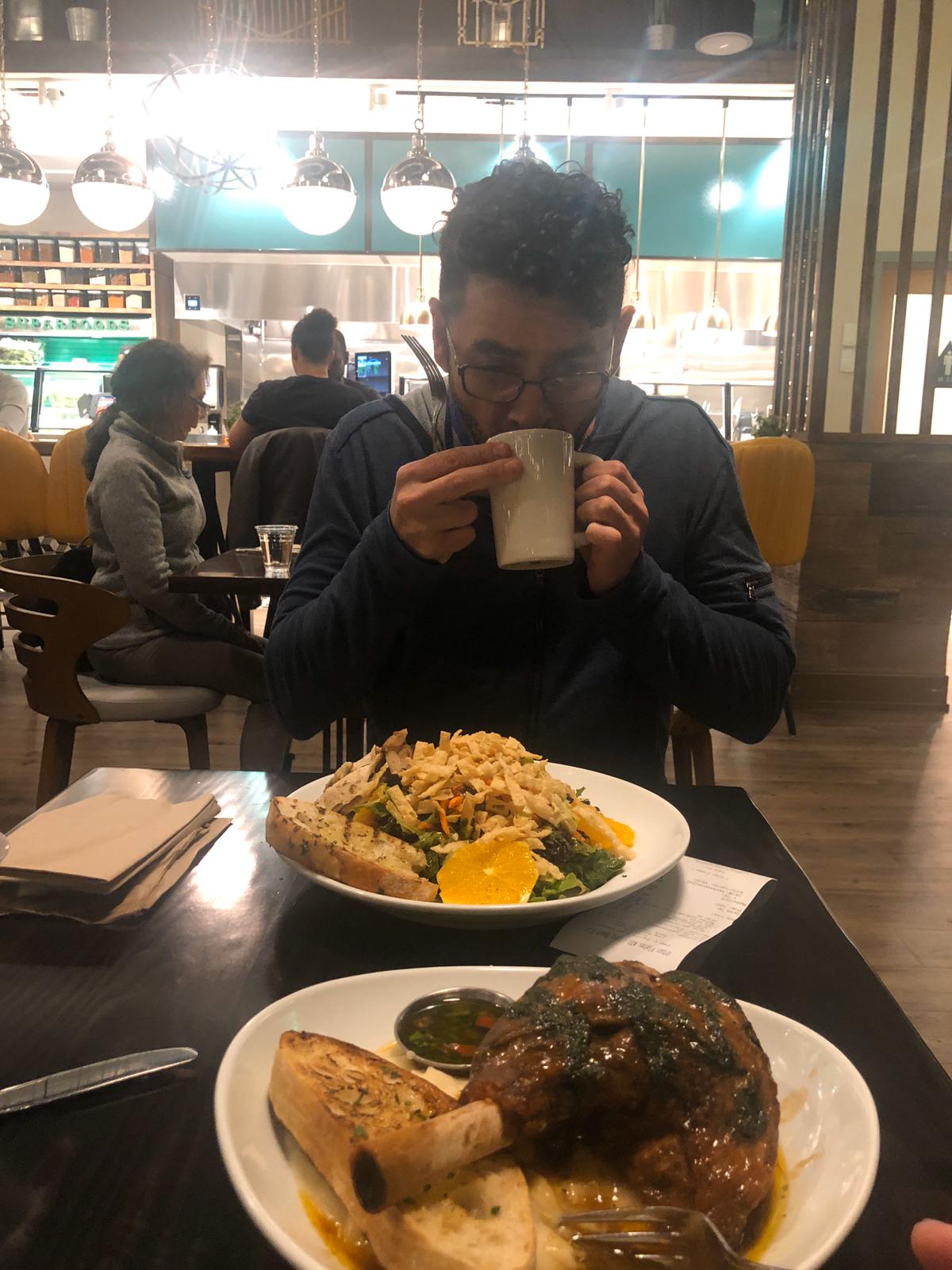 Such a varied menu also eliminates the "veto vote," which is no accident. Their founder notes, "If you have a group of colleagues or a family coming, it's hard to get everybody to agree on a single place to go and eat. We wanted to be able to eliminate or minimize that veto and we wanted high frequency, so that's driven by the different eating experiences, plus the way we prepare the meals."
So far it's working, especially in Orange County, California (yes, ugh, "The OC"), where places like Irvine represent the ideal combination of corporate offices, suburban homes, and college campuses, all with a distinct SoCal snootiness. Seriously, Irvine is like a magnet for the posh, health-conscious types (ok, sure, we can call them "urbane") with the taste and spending power to keep on queuing up.
Urban Plates has a Warchest and They are Expanding
Currently Urban Plates operates 19 total locations (all company owned) with fourteen in southern California, two in the bay area, and three in greater Washington DC.
Back in 2018, the chain landed a $38 million finance deal with Goldman Sachs to be used for their incremental expansion. The plan is to have 80 total restaurants by 2023, with locations in Chicago and Maryland slated for 2020 opening. Each location will have the same layout, concept, and menu as existing ones. From there, they will continue their urban and coastal focus, emphasizing areas with populations primed for their produce-heavy products.
They understand that only certain spots in the country will be into their particular brand of urbanity, and are looking to expand in areas not already saturated with similar concepts. For this reason, their expansion into the bay area and even southern California will slow as California is already home to Tender Greens, Lemonade, and the like, and the same is true for New York. Instead, they want to look at places like Chicago and Maryland where the food offerings have yet to catch up with the evolution of prevailing preferences.
Obviously such a finely-tuned expansion strategy can only come from a wide-ranging market research program that considers the competitive landscape, emerging tastes, and demographics to offer precise, data-driven insights into areas primed for their arrival.
Advertising the Brand Promise
Their brand promise is spelled out everywhere you look in the restaurant, where signage, associates, and the food itself humming through the preparation stations all signal how very fresh, wholesome, and in many cases organic their meals are.
As they are all too happy to inform you, all of the urban plates are made in-house with quality ingredients sourced only from partners that head of culinary, Jim Cannon, has given his personal seal of approval. Furthermore, all locations have a giant (we're talking like 20-feet tall) organic board updated regularly to list each and every organic item on offer.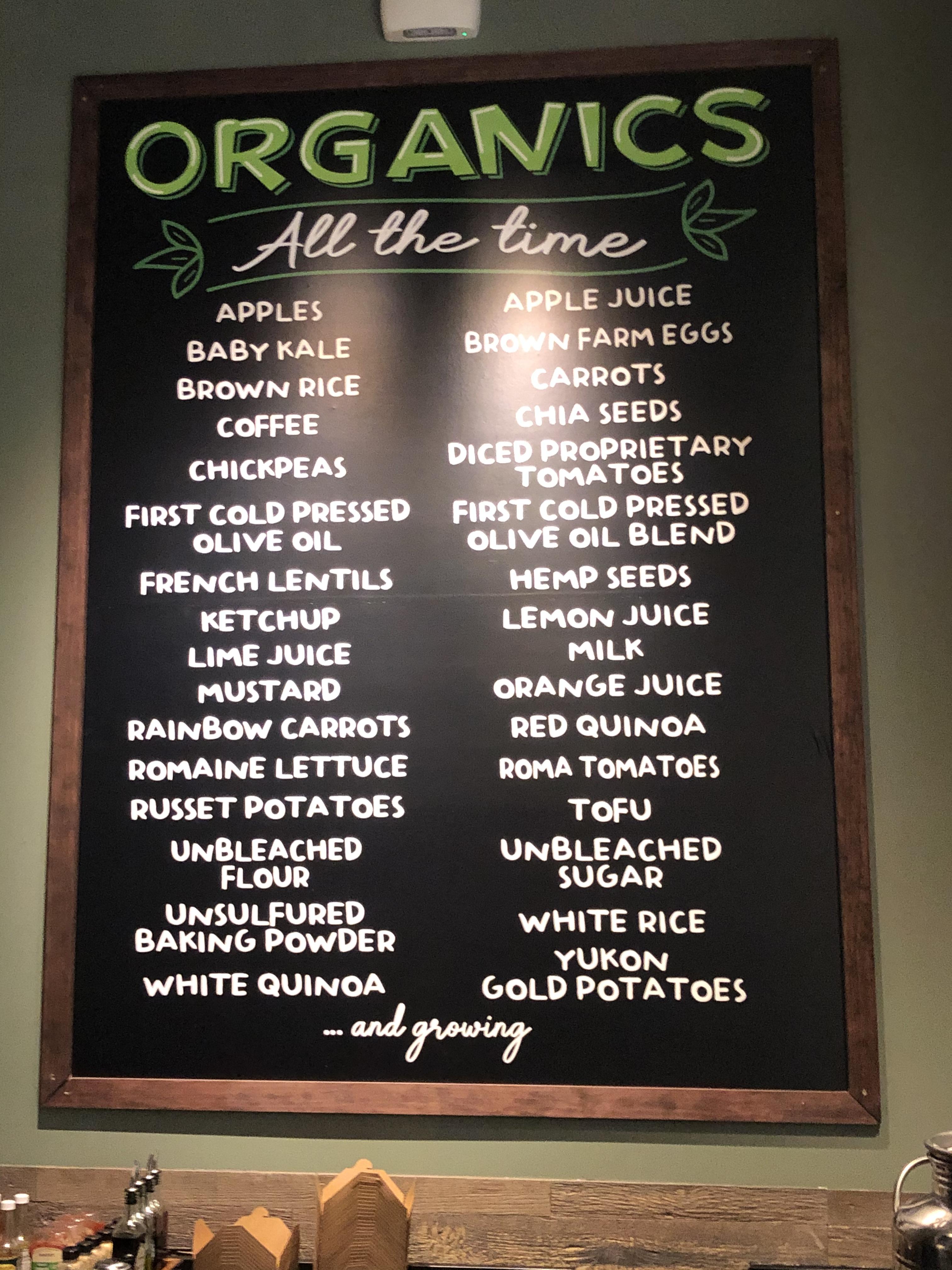 Associates, who provide something of a scripted orientation for first-time guests, can also recite the ingredients in most every dish, are all too happy to explain why their produce and product are better than the rest, and will always bring conversations back to the food.
And then there are the ingredients themselves, prominently displayed throughout the ordering and preparation areas, where guests can watch their meals created fresh in real time. This visibility--which amounts to telling guests, hey, we have nothing to hide--goes a long way in illustrating the chain's differentiator, while also helping diners eat around their allergies.
Indeed, as San Diego State University marketing professor Morgan Poor (such an unfortunate last name for a business teacher) noted, "(Urban Plates) is not only showing their customers their high quality ingredients with pictures and imagery, but also showing the actual ingredients from behind the glass,"
Meeting the Meatless Demand with Food Service Market Research
With this emphasis on fresh ingredients, Urban Plates also finds itself uniquely positioned to lean hard into increasingly popular plant-based diets, to ride the wave of veganism, vegetarianism, flexitarianism, and all emerging meatless trends.
While the restaurant already offered several plant-based options, and there has always been the opportunity to build your own plant-based meal, they are doubling down on these offerings.
For this reason, they started testing (there's that market research again!) a new line of $9, chickpea-protein based plant bowls in their three San Diego locations, where they saw a 4% increase in plant based sales once the bowls were introduced.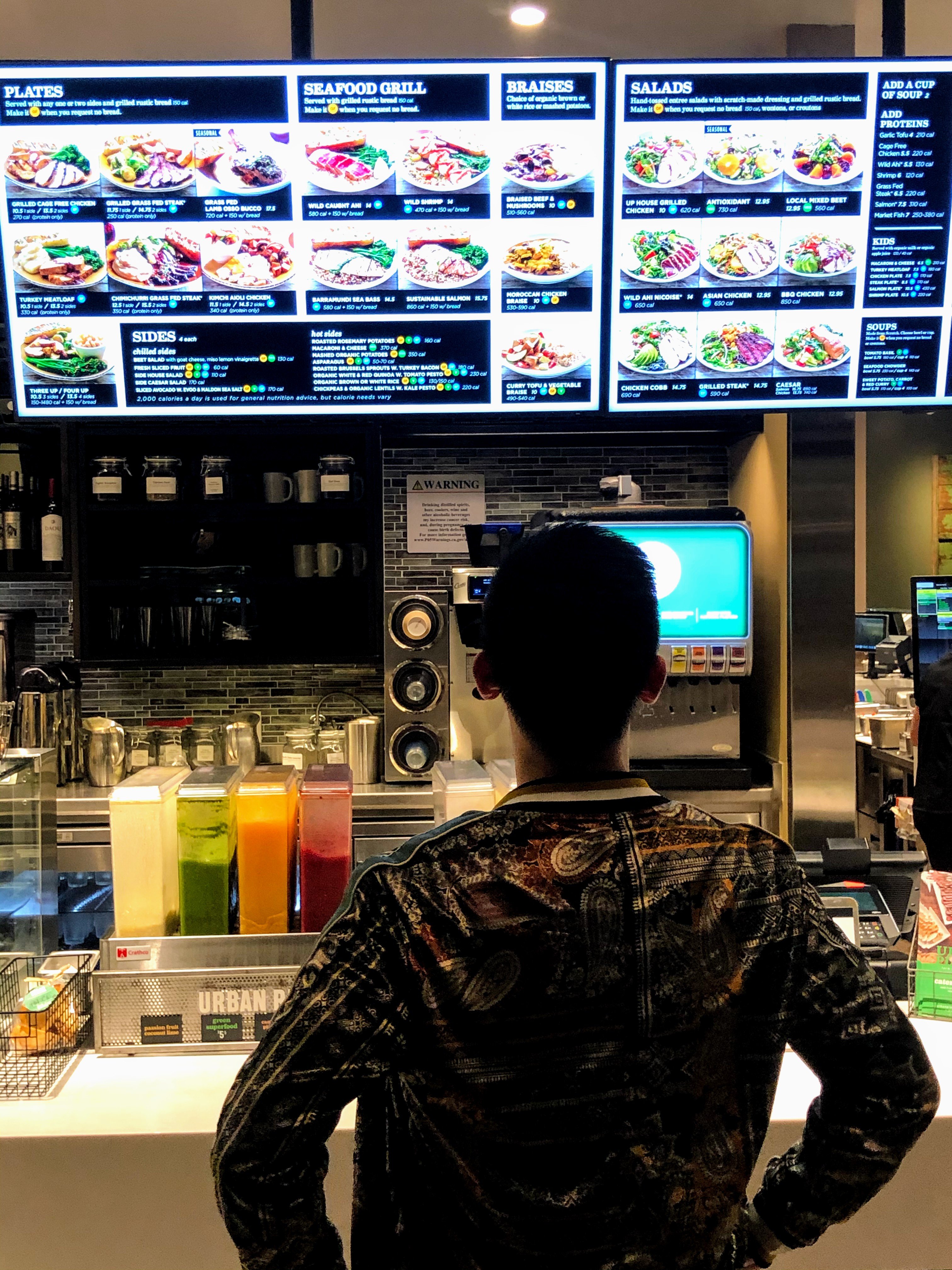 As their co-founder and CEO Saad Nadhir explained, "I think today's consumers, and the Urban Plates guests, in particular, are savvy: they understand the importance of getting away from processed foods, eating more vegetables and making positive health and lifestyle choices. I think this also dovetails a trend we've been seeing in which consumers are considering flexitarian diets, (e.g.) 'meatless' Mondays, and the impact our food choices have on the environment. Everyone's on their own unique food journey and we want to ensure Urban Plates is ready to meet its guests wherever they are."
But you don't just throw some veggies against the wall and see what sticks--in developing a vegan menu, Urban Plates knew the recipes must be unique, authentic, and wholesome. That's why they turned to market research methodologies last fall to learn more about what guests were looking for when it came to plant-based products.
Nadir said the decision to look to market research was an easy one: "As with any new dish, our culinary team began the R&D process, recipe testing and related homework and developed a fresh selection of nutritious and satisfying bowls that are also vegan, gluten-free and, of course, delicious."
One thing the market research told them: while the country may be falling in love with Beyond and Impossible products, Urban Plates' consumer base is not into faux meat products, particularly those only made possible with a lot of industrial processing. Such products would betray Urban Plates brand promise and would feel out of place--instead, they find fresh, minimally processed plant-based products to appeal to their existing and ideal customers.
With such a strong brand identity and a carefully scripted expansion plan, and a market research program dedicated to guiding both, it seems like liberal-leaning cities are poised for an urban invasion.