Gosh, it must seem like we always want to talk about booze at TrendSource, but did you hear that beer giant Anheuser Busch, part of the ABInBev conglomerate, recently purchased Cutwater, upstart distiller and crafter of canned cocktails? Honestly this market research blog just follows the news and, these days, and lately it all seems to come with an alcohol content.
In the acquisition, Anheuser Busch is preparing for a future that does not depend entirely on beer, a wise move in an era in which younger consumers are shying away from the calorie- and social meaning- laden beverage in favor of wine and craft cocktails, both of which are now sold in cans.
So crack one open, we are putting in the beverage industry market research to evaluate the acquisition, its implications for both sides and the beverage industry, and what it means for happy hours across the country. Bottoms up!
A Cut Above the Rest of the RTDs
We aren't going to make you sit and watch us take a victory lap, but suffice to say, we've been predicting the cocktail-in-a-can revolution for quite some time, and have been slurping Cutwater from day one.
As traditional beverage sales have slowed, Cutwater has proven itself to be a cut above the rest, and in their acquisition, Anheuser Busch has bought a beverage buzzsaw.
Already available in 34 states, in the 52-week period ending January 26, 2019, overall off-premise retail sales were up 203%. These numbers include not just their best-in-class canned cocktails, but also their hard alcohol sales—Cutwater sells uncut versions of the liquor that makes up their cocktails, with multiple variations of rum, whiskey, gin, and vodka.
Considering just their 14 varieties of RTD cocktails, however, these numbers are even more impressive: Over the same 52-week period, Cutwater's cocktails-in-a-can increased their off-premise sales by 356%.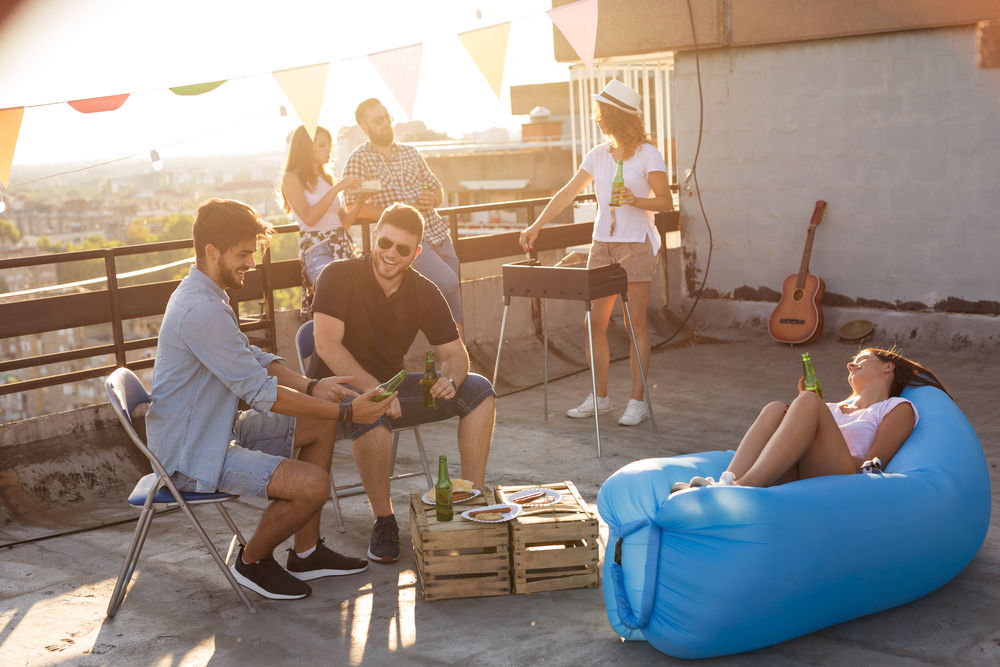 Sure, it might be easy to say that Cutwater is floating atop a bubble as RTD beverages surge amidst millennial disenchantment with beer, but Cutwater is significantly outperforming this segment which grew and impressive yet relatively modest 66% over the same period.
The particulars of the acquisition will not be made public until the deal closes in the Spring, but we do know that whatever Anheuser Busch paid, it was enough to acquire the entire company—they did not just buy a cut of Cutwater. We've already been told they intend to keep their original leadership in place, basically adding Anheuser Busch's R&D and distribution strength to an already healthy distilling operation. It's like Kellogg's with the RX bar, but with booze.
Fewer Buddies for Budweiser
Anheuser Busch, which is part of the Ab InBev beer conglomerate, produces the Budweiser family of beers (Light, Lime, Premium Light, Lime Light, etc.) as well as the low-calorie Michelob line, Stella Artois, Rolling Rock, Busch, and Shock Top. They also acquired Goose Island and Beckenridge among other craft breweries.
We are going to talk about some future trends that do not auger well for Anheuser Busch, but let's not lose sight of this simple fact: they are the largest beer company in the world. And it's not even close. They sell twice as much as their nearest competitor (Coors) and their sales surpass those of their top two competitors (Coors and Miller) combined. So, don't waste your tears on Anheuser Busch (Sears, however, could use them).
That said, between 2011 and 2016, Bud Light sales fell a whopping 13.4%, and Bud Light Lime a scandalous 35.5%. And it's among millennials that they are losing the most traction.
We've already covered Anheuser Busch's general fortunes, and Bud Light's in particular, so we won't go through an entire rearticulation here but instead trust that you, dear reader, remember our not-too-distant blog posts (seriously though, it was a great blog: go check it out!).
As we wrote then of millennials and Bud: "To millennials, Bud Light has become more of a beer pong beverage—one that is used for drinking games and other binge behaviors, but not for a chill night of beers with the boys. Derisively referred to as "swill" or "rice water" (and a few other descriptors unfit for this family-friendly blog) it is unlikely that Bud Light can rehab its image for the discerning millennial beer snob."
Beyond trying to re-center Bud Light as the people's beer, Anheuser Busch is obviously looking to branch out; like Coca-Cola, their flagship product is losing market share faster than people who quit it can lose weight (fast!). That's why, in addition to their cocktails-in-a-can and RTD malt beverages, they hope that, by 2025, 20% of their sales will come from low or no alcohol products. These include energy drinks, session ales, and other beverages, sure, but also, there's retail cannabis market, which they have aggressively entered with a recent December 2018 partnership.
So yeah, their identity is as brewers, and that's an identity they are going to cling to, but they know they need to be more. Their VP of sales Brendan Whitworth, walked the line like this: "We are first and foremost a beer company. That being said, we want to be sure we are present where all consumers are. That includes adjacencies within beer, and different segments that are emerging."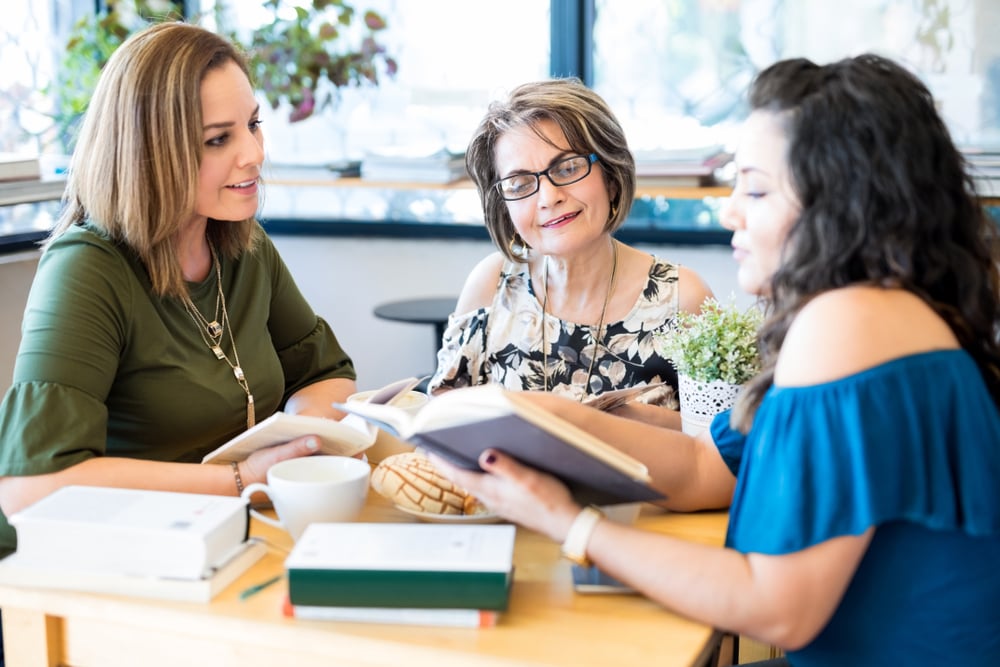 Beyond Beer at Anheuser Busch
This isn't AB InBev's first addition to their Beyond Beer portfolio, which already includes malt beverages flavored like margaritas from the Ritas brand and flavored like La Croix through their Spiked Seltzer line. They also recently added Babe Rose, cashing in on both canned wine and rose trends, and organic energy drinks (nonalcoholic) sold as HiBall.
So, before the Cutwater acquisition, they'd already started imagining their beyond beer future, though this imagination was predominately limited to new-ish incarnations of Zima-esque malt beverages. Forgive us for saying so, and also for how very hipster it sounds, but in buying Cutwater, the company is elevating its portfolio and expanding its consumer base to include the types of aspirational and influential millennials they have slowly been losing.
Cutwater cocktails-in-a-can are the kind of thing you sip while putting on the 14th green, or that you find served by Instagram models at pop-up, rooftop parties. Ritas, on the other hand, are the kind of things your daughter-in-law drinks with her book club. Now, reading is just as important as golfing and partying (more important, actually—read more!) but the target demographics are significantly different (and, for what it's worth, Spiked Seltzer is the kind of thing your humble blogger's boyfriend sips whilst pretending to watch football).
Cutwater Could Have been a Star for Constellation
So yeah, Cutwater has a certain appeal. The company started in 2007 as an offshoot of Ballast Point, the San Diego based craft brewer who famously made IPAs famous and eventually sold to Constellation in 2016 for about $1 billion.
When evaluating Ballas Point's assets, Constellation proved uninterested in the beer brand's upstart distillery operation, which branched out independently, adopting the Cutwater moniker. Yeah, that's a colossal miscalculation and failure to see the long game, on par with going Bowie over Jordan or being offered the film rights to Marvel characters and saying, yeah, no thanks.
Constellation failed to see a future in which beer were not the default and preferred beverage of working and kept men everywhere.
Within a year, Cutwater had opened their 50,000 sq/ft facility in Miramar in Northern San Diego and had already began to pursue an aggressive expansion strategy based on opening quality retail partnerships. As their Chief Sales and Marketing Officer described, "We went where the chains were asking for us. If consumer are looking to buy it, I am going to be there."
A Busch-Cutting Love Fest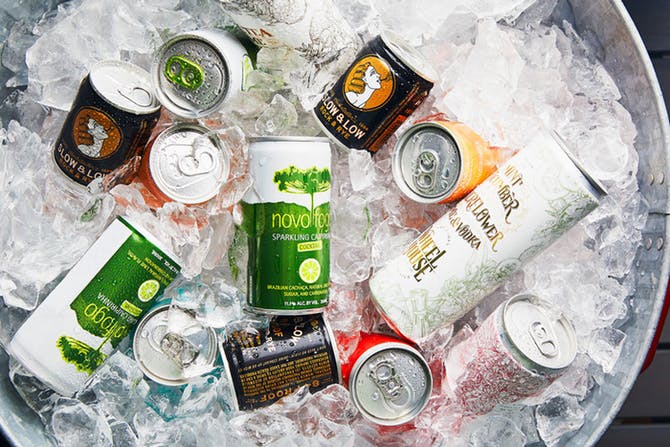 Like the earliest stages of most relationships (not all: a year in and your humble blogger is still crazy in love) the new partners are falling over themselves and each other to be complimentary.
Indeed, while Cutwater is trumpeting Anheuser Busch's power to "bring our spirits and canned cocktails to the world," Anheuser-Busch is declaring its "tremendous respect for the brand that Cutwater Spirits has created and cultivated in just a few years and look forward to working with them to expand their premium canned cocktails to consumers across the US."
Beyond the love fest, it seems that Anheuser-Busch is content to let Cutwater continue its dance with destiny without cutting in. According to Whitworth, "Right now, the near-term objective is to keep the current route to market and minimize disruption. As we expand, we obviously believe in the power of the A-B network, and state-by-state that is the preference."
Some of this has to do with street cred. Part of Cutwater's charm has been its independence from typical conglomerate beverage structures and Anheuser Busch doesn't want to shroud Cutwater's hipster bonafides in a corporate cloak.
They will, of course, ensure their Research and Development (R&D) and distribution networks give Cutwater every boost and break it needs, but for the time being at least, they don't want to disrupt the Bud Light Apple (yes, a real thing) truck.
This explains why CFO Carlos Brito emphasized Cutwater's outsider, dare we say disruptor, status: "…When we enter established categories other than beer, we try to do it from a disruptive angle. So, if we're entering spirits in a more serious way, we don't want to enter trying to do a "me too" type brand, big brand, national brand. We're entering with a craft mindset.
Booze, Panel Surveys, and Beverage Industry Market Research
So how do you cut right across the middle, being big enough to enjoy nation-wide distribution and top-tier product development, but small enough to maintain a disruptor, outside status? Honestly, it's tough—a lot of brands rise to the top because of their outsider status only to find once they are tops, they alienate their base who say them as a refreshing alternative in the first place. Just ask ESPN. But there is a way to find and maintain your tone and course.
You know the answer but we'll just go ahead and say it: CPG market research. We would recommend Anheuser Busch start with panel surveys and other market research methodologies poised to offer actionable insights from the ground up.
They can find out why people enjoy their products—is it taste in the social sense, the taste bud and tongue sense, or both? What image should they cultivate for themselves, at what cadence should they entertain new products, and who is their ideal consumer?
CPG market research can help with all of those questions, faster than your humble blogger can open up and put down a canned gin and tonic. And that's fast.