Beyond Meat is moving beyond niche, debuting in two QSRs—Del Taco and Carl's Jr.—over the last several months. Formerly restricted to Whole Foods grocery aisles and pretentious burger joints like Hopdoddy, the entirely plant-based burger patty (peas, faba beans, soy, and beets are the main ingredients), is quite popular. It counts Bill Gates and lifetime 'it' boy Leonardo DiCaprio as celebrity investors, to say nothing of General Mills, Tyson Chicken, and even the SPCA on the corporate side.
Over the last year, Beyond Meat's net revenue jumped 176.67% to $56.4 million and they have recently filed for a highly-anticipated IPO.
But what can we learn from their recent partnerships with Del Taco and Carl's Jr? Well, roll up your sleeves fire up the grill because we are serving up some fresh-off-the-fire food service and CPG market research, breaking down the current state of meat and faux meat consumption, the future of fast food, and the peculiar dietary habits of Ron Swanson.
Of the Taco, Not of the Meat
Del Taco, which literally means "of the taco" and sounds like it could be appended to a Mexican plutocrat's name (Nicolás Bravo Del Taco), favored a cautious roll out, looking to "gauge acceptance prior to making further decisions on product availability." That's corporate speak for wanting to make sure people will eat it at a profitable rate before committing too much in terms of energy and resources.
For its QSR debut, beyond meat brought the boom. It developed an exclusive (not available in stores or anywhere else…yet) faux meat crumble for Del Taco, meant to mimic the chain's signature seasoned ground beef.
The product can be swapped into any item on the menu (though it wouldn't fit on our personal favorite Del Taco item, the Double Del Cheeseburger) but is centrally featured in the new Beyond Taco, which includes the crumbles, cheese, lettuce, and tomatoes. Now, we know what you're thinking: that's not vegan. Nope, but the Beyond Avocado Taco is—it's the same thing as the Beyond Taco, but it swaps cheese out and avocado in.
And it seems people like these special crumbles. Beyond Meat initially appeared at only two LA County Del Taco locations, one in Santa Monica and one in Culver City, but quickly expanded to also include 16 San Diego locations and a couple Riverside and Orange County ones as well. This means that any southern California Del Taco enthusiast is not too very far from a Beyond Meat test kitchen, at least not in terms of miles, but, well, you know what traffic can be like down here ("only two hours from the beach…well…four with traffic!").
This rapid rollout is being framed as a response to the product's overwhelming popularity, as Del Taco CEO John Cappasola was all to happy to point out: "After receiving overwhelmingly positive feedback from fans during our pilot test in Los Angeles, it only made sense to introduce our Beyond Tacos to a larger SoCal community."
Beyond Meat Takes Carl's Beyond the Famous Star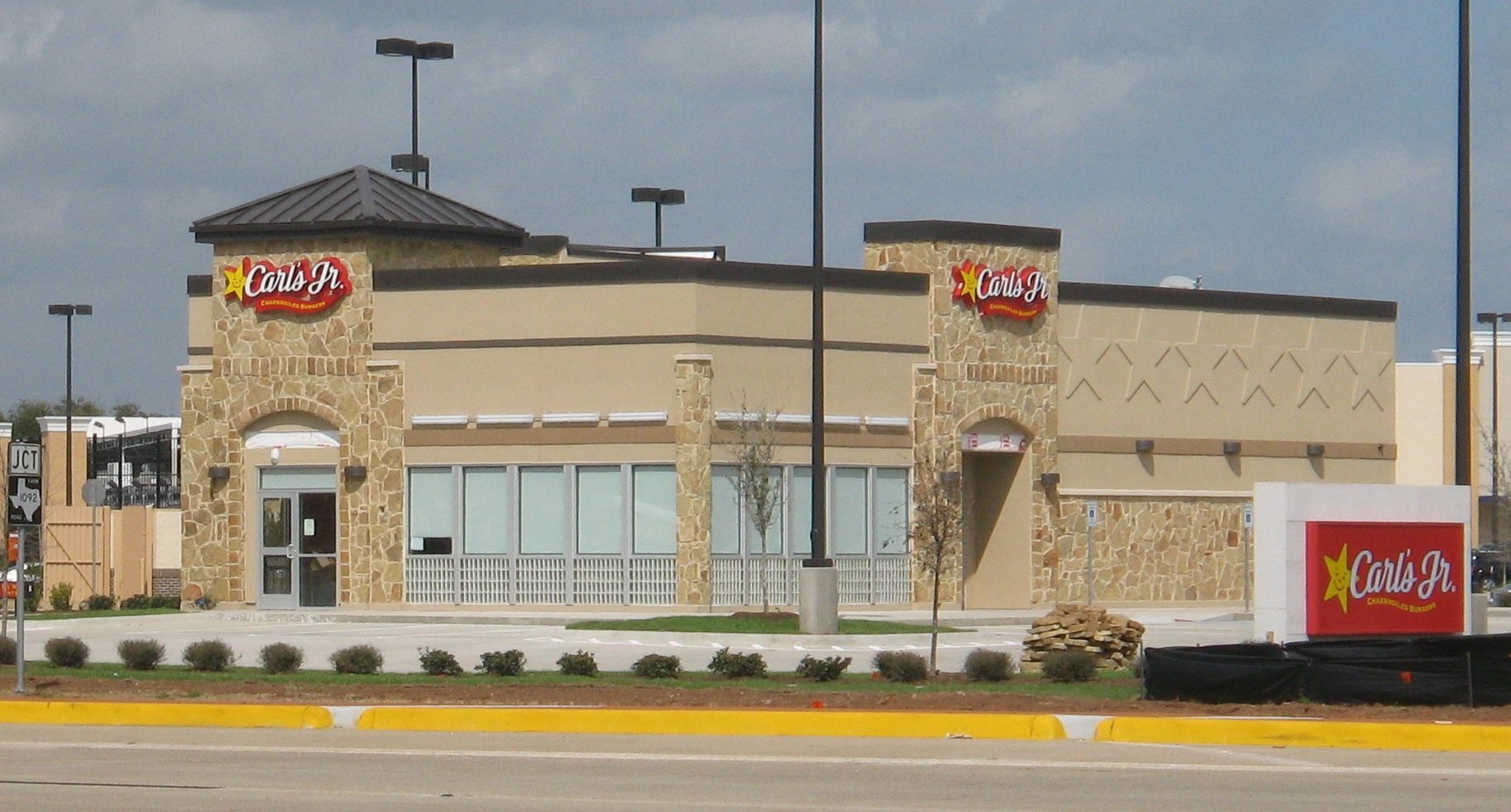 Meanwhile, at Carl's Jr, which sounds like it's missing a noun—Carl's Jr…what? Carl's Junior Stockbroker? Carl's Junior Lightweight Boxing Phenom?—the rollout has been much quicker, but also more ephemeral.
In over 1,100 national locations, Carl's Jr. customers (and senior customers and middle aged ones too) can swap in a Beyond Meat patty for any burger option on the menu. These are not exclusive like the Del Taco crumbles, but rather the flagship Beyond Meat burger patty product available at grocers across the country, charbroiled in Carl's signature style.
Like Del Taco, they too have a featured product for the patty, the Beyond Famous Star, which is basically Carl's trademark burger with a Beyond Meat patty. It can be made vegan by subbing in mustard and/or ketchup for the cheese, special sauce, and mayo that comes standard on the Famous Star.
With 1,100 locations, this is not a slow roll(out), but it is a limited one—the Beyond experiment ends on 1/31, at which point leadership will pour over the food service market research, no doubt, and determine if they will move beyond this limited Beyond Meat engagement.
Informal, Guerilla Market Research: Putting Beyond Meat to the Swanson Test
Ok, truth time: your humble blogger put the Beyond Meat to the ultimate test recently at a LAX restaurant and, sorry to say, it did not pass.
While my boyfriend was busy on a work call, I ordered for us and surreptitiously snuck Beyond Meat patties into our otherwise normal cheeseburgers. He took one bite and before swallowing was already hailing the waitress to tell her that something was terribly, horribly amiss. So, yeah, those patties are fooling nobody.
An unfair standard you argue? Well, not really. You see, Beyond Meat is one banging the faux meat drum here, hanging their differentiator hat on the fact that the patties, "look and cook" like real meat, implying they taste like it too.
And that real meat taste is undisputedly their goal, just ask their CEO Ethan Brown: "Once we break the code and get to the point where it's indistinguishable from animal protein, I think you will see that shift." They still have some distance to go before they get to that shift.
Because, here's the thing: the patties don't taste like meat, and even more problematically they don't taste all that good either. There is a pseudo smokiness that accompanies the faux meatiness, and the whole thing tastes a bit like a science experiment. Points for appearance—it looks like a seared, medium rare burger patty, so much so that my guinea pig boyfriend did not notice the ruse until he sunk his hungry teeth into it—but we are scoring the taste somewhere between incomplete and needs improvement.
Of course, I don't think this product was made with either of us in mind—I, a long standing vegetarian just returning to the meat world, he a long dedicated carnivore who expects meat at every meal and sometimes reminds me of Ron Swanson.
When I was a vegetarian (for ten long years until two long years ago), I did not go out looking for things that tasted like meat, I went looking for things that tasted delicious. A veggie burger was good when, well, it tasted good, not when it tasted like meat.
But of course, this is a minority opinion and I am not the target audience.
CPG Market Research: Do it for the Flexitarians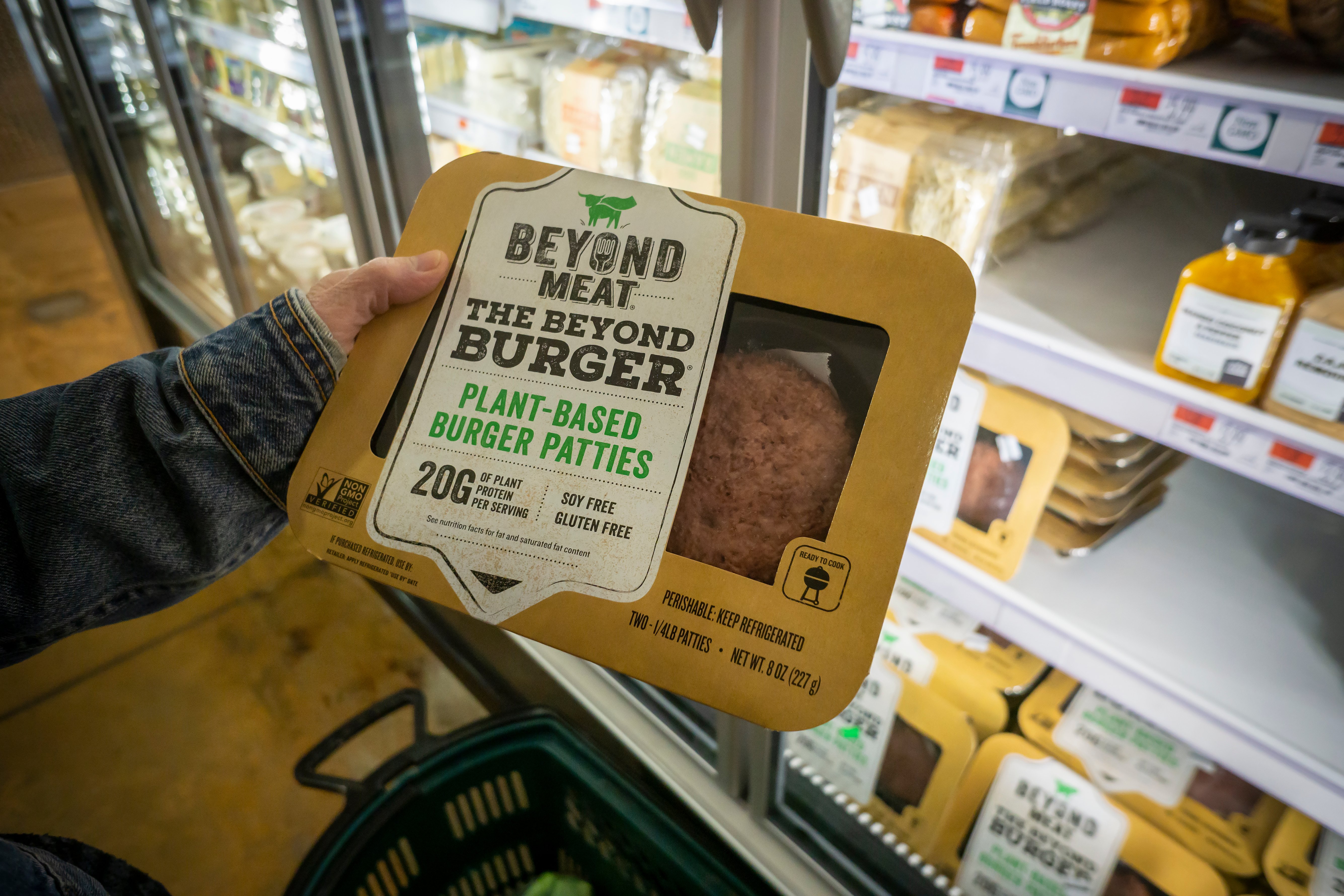 You can bet that Beyond Meat has done its CPG market research and knows they aren't aiming for the dedicated vegetarians of the world but the flexitarians, those who are going beyond meat a few times a month to reduce their actual meat intake.
Beyond Meat's own research suggests that 70% of their customers are not vegetarian and, according to one grocery store's data analysis, 90% of customers who purchased a Beyond Meat product also purchased some type of animal-based protein.
As we wrote last year when describing the proliferation of vegan fast food establishments, "These are not the 'vege-terrorists' rocking 'Meat is Murder' bumper stickers, but rather typical Americans who, for financial, environmental, and even moral reasons, are choosing to limit their meat intake. Indeed, eating less meat has become increasingly normalized: Meatless Mondays actually are a thing, family barbeques seem to have at least one vegetarian option these days, and the days of eating meat with every meal seem a remnant of a different era."
Whereas few Americans (estimated at around .5%) live the dedicated vegan life free of animal products, more and more are limiting their animal intake: In 2015, 25% of Americans reported they reduced their meat consumption.
Consider how Del Taco positioned the product in its initial press release: "With a growing demand for vegan and vegetarian options among our guests…" As somebody who writes his fair share of press releases, let me assure you, every word is intentional. They are not saying the demand is coming from vegans and vegetarians, but rather their guests are demanding flexibility vis-à-vis vegan and vegetarian food options.
Carl's Junior was even more explicit in explaining its Beyond Famous Star: "We know people are looking for options—in fact, roughly one-third of consumers identify as flexitarians—and we're thrilled to partner with Beyond Meat to bring more delicious, irresistible flavors to our menu."
Food Service Market Research: Get Meat While the Getting's Still Good?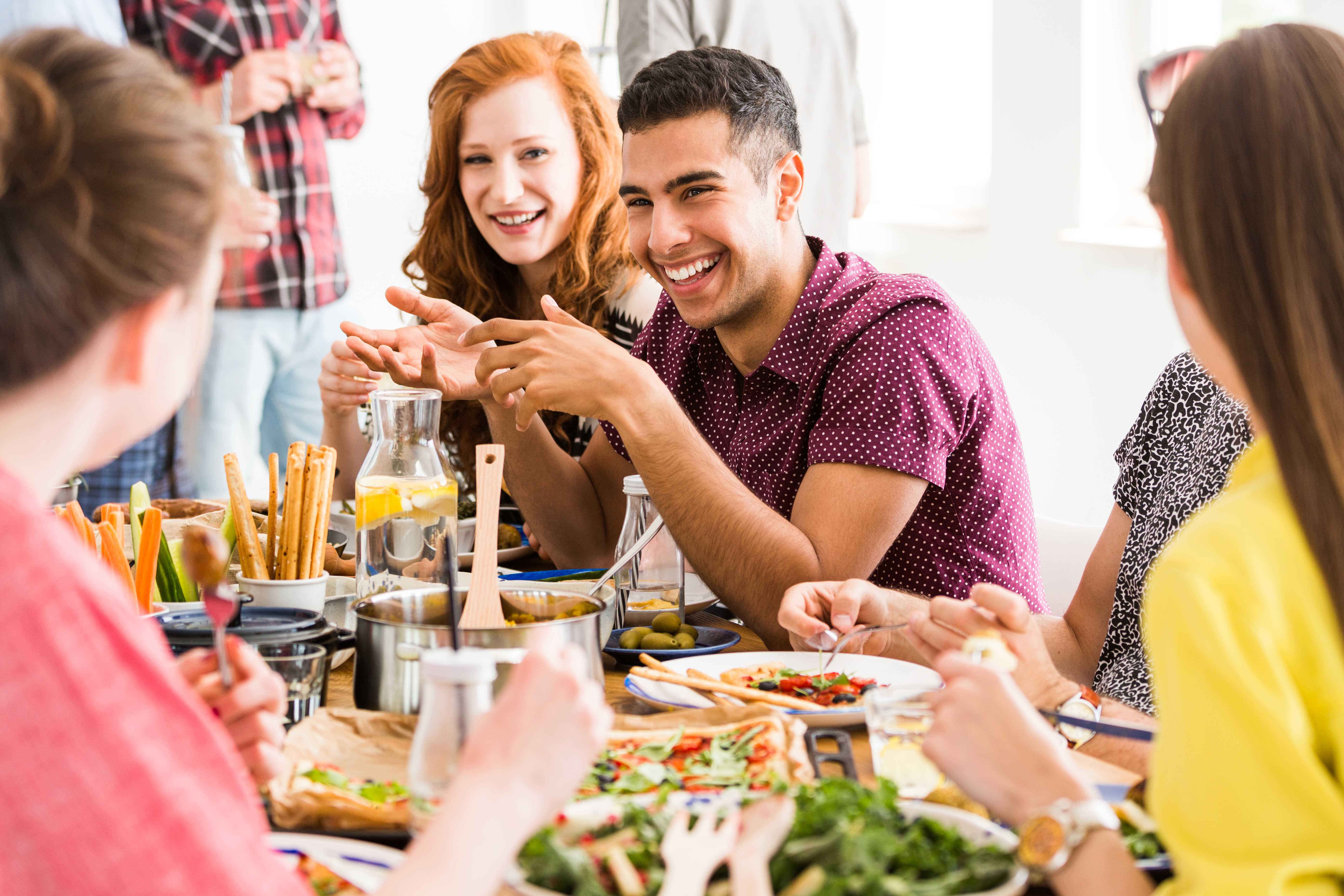 With its closest rival, Impossible Foods, branching into 300 White Castles (to say nothing of better burger joints like Hopdoddy and Umami Burger), it seems these faux meat products will serve as a meeting point for individuals limiting their animal protein intake but not trying to go all hippy about it.
CNBC estimates that if Beyond Meat and/or Impossible Foods could capture just 5% of the meat's meaty market share, it would be a viable and profitable product. If we're not there already, we will be soon, so expect more companies to develop and serve similar products.
Because the thing is, we can't all be Ron Swansons—with the world's population continuing to boom and industrialized agriculture continuing to bust the earth, it's simply not economically or environmentally sustainable or even practical to eat meat every day. This realization will slowly and then all of a sudden suddenly spread and QSRs like Carl's and Del Taco are getting ahead of the curve.
Because, as Brown forecasted, once these products can pass the Swanson test, meat will lose one of its last legs to stand on.
Indeed, in the long term, meat is in trouble, and its purveyors know it. As alternatives are increasingly normalized, meat will increasingly become a featured indulgence, not an expected centerpiece, it's just a question of how long it will take.
Now, if you will excuse me, my own personal Ron Swanson is taking me to get Korean BBQ.