Oprah Winfrey (mogul, television personality, and noted American treasure) is buying in to an already hot commodity. The monoymous Emmy and Peabody winner recently invested an undisclosed sum in True Food Kitchen, a Phoenix-based health food restaurant chain that launched in 2008 and currently boasts 23 locations in trendy urban neighborhoods across the country.
With its emphasis on healthy, anti-inflammatory foods, combining Oprah's profile and portfolio with the burgeoning chain seems like a recipe for success so long as current trends hold. So pull up a chair and crunch some granola with us as we put in the food service market research to understand the overwhelming power of Oprah's investment and endorsement, evaluate the current health-conscious consumer, and connect the dots to see what our 2018 Food Service Industry Report has to say about all this.
The Oprah Effect Affects Us All
Some of you are probably too young to remember, but there was a time when Oprah Winfrey was unquestionably the nation's most visible and powerful cultural figure. Her endorsement vaulted books to the top of the best seller list (for better and for worse), she encouraged millions of Americans to follow her dietary and aerobic example as she publicly battled obesity, and, when she wanted to be, she was second-to-none in hard-hitting interviews and celebrity puff pieces alike. And while her public presence has waned in the years after her TV show went dark, her power and influence have not.
These days she runs OWN (anybody else obsessed with Rutina Wesley?), is a special correspondent for 60 Minutes where she will hopefully soon fulfill her destiny and take Andy Rooney's chair, just closed a content deal with Apple, and in her spare time, drops what we assume to be several million dollars to invest in True Food Kitchen, which no doubt hopes to profit from the "Oprah Effect".
Yup, her influence over American purchasing power became so powerful as to earn its own economic term: the Oprah Effect--a phrase for the sales bump her king-making provides and, more broadly, an acknowledgement that most everything this woman touches turns to gold. Even flagging brands like Weight Watchers got a gigantic Oprah boost when, in 2015, she bought in for a percentage and made those I Can Eat Bread commercials.
Because of the Oprah Effect, we have her to thank for Rachel Ray and Gayle King, we have her to blame for Doctors Phil and Oz, and now, with her investment in True Food Kitchen, she will likely be responsible for mainstreaming some of the flashier health trends in contemporary cuisine.
Indeed, the mere fact that the partnership was reported in industry rags like The Hollywood Reporter attests to the spotlight wattage she will be bringing to the deal.
Sure, she may have dropped out of the public eye relative to her planet-dominating days hosting the Oprah Winfrey Show, but she's still basically what would happen if Jay Z and Beyonce merged into one entity—we're talking that level of wealth, diversity of brands and assets, and cultural influence.
True Food Kitchen was A

lready the Truth (in the

Paul Pierce

sense)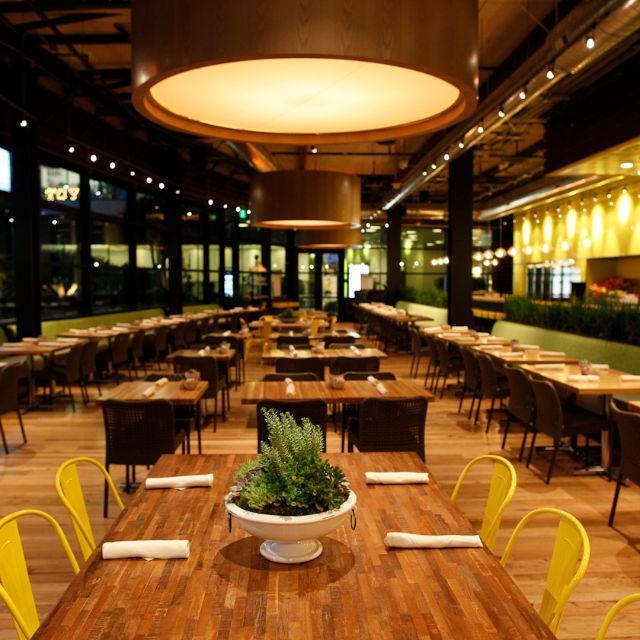 But Oprah is no fool, she's not going to lend her name to a brand that is not both ascending and on the up-and-up. True Food Kitchen seems to fit the bill, watched by industry insiders as a potential breakout star well before Oprah came along. Indeed, Andrew Weil's anti-inflammatory pyramid is far from unknown in celebrity circles, having inspired Tom Brady's famously meticulous nutritional regiment. When the single greatest athlete of all time is a walking, touchdown-throwing embodiment of a health plan in action, well, you've already got something cooking.
Speaking of cooking, True Food Kitchen's kitchen puts out a fusion of Mediterranean, Asian, and California cuisines, offering a rotating and unique ~30 dish variety at each restaurant. Think spaghetti squash casserole, kale smoothies, and quinoa burgers. Then think local beer and wine, and cocktails made with fresh fruits.
But there's something unique going on in the kitchen, one on trend with current tastes in the restaurant industry. The menu follows founder Dr. Andrew Weil's food pyramid, which is based on his belief that anti-inflammatory foods promote health and wellness, addressing an entire set of maladies. Weil, who appeared on Oprah's talk show all the way back in 2000, is himself no stranger to celebrity and his personal brand is still affiliated with the restaurant.
And it seems to be working. The chain has doubled its location count since Christine Barone took over as CEO, and reports double digit same store sales growth over the last year. They've already partnered with Door Dash and are building out a robust in-restaurant pickup operation.
But, for all the glory and magic that is Dr. Weil and even Touchdown Tom, their wattage is nowhere near Oprah's.
Oprah, True Food Kitchen, and Our 2018 Food Service

In

dustry

Report
So how did this not-at-all-unlikely partnership begin? With a phone call, it seems.
According to CEO Christine Barone, Oprah cold called her after eating a meal at the Santa Monica True Food Kitchen. As Oprah tells it in the official press release, "When I first dined at True Food Kitchen, I was so impressed with the team's passion for healthy eating and, of course, the delicious food, that I knew I wanted to be part of the company's future."
The admiration, it seems, was mutual as Barone described it. "Every single one of our restaurants is a bit different and integrates itself into the local community," she explained. "What was really inspiring was [Oprah] not only loved the food, but felt that sense of community in our restaurant."
One power lunch later, the two women had hammered out an agreement wherein Oprah invested, joined the Board of Directors, and will consult on marketing initiatives and future expansion plans.
And boy are they excited about their expansion plans—we're talking Tom Cruise jumping on the sofa excited. They plan to double their business over the next 3 years, operating 42 locations by 2021.
Barone, who came aboard after leaving Starbucks, thinks the road is paved for the brand to become among American's favorite things: "There's really not a competitor in the full service dining space for True Food Kitchen...I think that's because many believed that you couldn't have a singularly focused healthy restaurant compete in this market."
And she's probably right. As we pointed out in our recently-released 2018 Food Service Industry Report, diners are increasingly demanding healthier, fresher, and better tasting foods, even from the casual dining chains in which many had their first restaurant meals.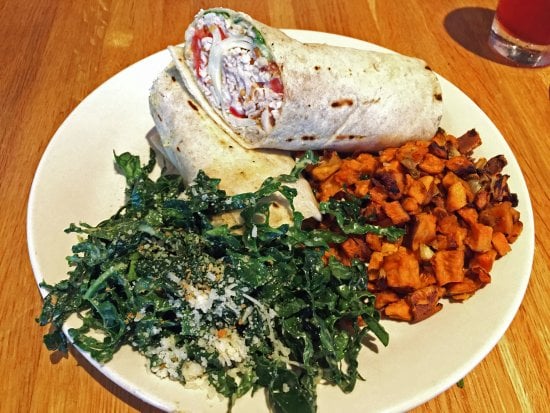 A Bit of Reflux

? What the Food Market Research Says
Consumers want their food to be healthier but they don't want it to be any less inventive or delicious. They want a boost with their bites, which is why we've seen Kombucha, vegan and vegetarian, and organic food markets all ripening. With their anti-inflammatory claims to fame, True Food Kitchen is differentiating itself within an already health-conscious market, not just boasting the holy trinity of health options (organic, gluten free, vegan/vegetarian) but also offering tangible physical benefit.
While we love a good marketing campaign as much (ok, maybe more) than the next blogger, it is possible, we fear, they are taking these claims a bit too far; we are already starting to sense a backlash brewing.
As Eater helpfully pointed out, such lofty claims to anti-inflammatory healing have not gone unchallenged. Indeed, "a meal isn't medicine, and presenting it as such is misinforming people" meaning that with their quinoa burgers, diners are also getting "a hefty serving of marketing". All food comes with marketing, but this is marketing cloaked in a doctor's lab coat, using words many consumers don't entirely understand but believe to be legitimate.
Here's the thing: as a rule, dining out is less healthy than cooking and eating in. But it's not nearly as fun. For a long time, restaurants emphasized the fun and flare of it all (looking at you, TGIF). But nowadays consumers want nutritional permission to eat out, they want to believe that in addition to delicious, their dinner on the town comes with a bounty of benefits.
Thus, different restaurants have marketed their food as anti-aging, anti-obesity, anti-anxiety, anti-anti-anti. For True Food Kitchen, it is anti-Alzheimers, anti-cancer, and anti-heart disease (and more). Not to HARPO on this but at this rate it seems like we may soon be sold a menu that promises to regenerate lost limbs, mend broken hearts, and teach you Mandarin via osmosis.
So there is indeed the potential for a backlash as consumers get savvy to the ways in which better-for-you restaurants promote their own magical and wishful thinking.
And that is maybe the biggest reason the Oprah partnership makes sense: If anybody can make us believe, it's Oprah.