A hot new technology trend has hit the market, and several industries are taking advantage: the mobile checkout movement. We've seen what can be accomplished with beacon technology, so it's no surprise that mobile has more capabilities that can further enhance the shopping experience.
Retail Embraces Apple Pay
Many of us might mark the beginning of mobile payments by one of the world's most recognizable retailers. Apple Pay is a convenient, secure checkout service that eliminates the need for credit, debit, and store credit cards. Walgreens was the first retailer to integrate rewards for Apple Pay users. Sona Chawla, CMO of Walgreens, notes that "this offering supports our commitment to removing friction and enabling a simple and convenient checkout."
Starbucks Limits Lines with Mobile
Since we're on the topic of recognizable brands, let's throw Starbucks into the mix. With long lines of caffeine-demanding customers, it's no wonder Starbucks adopted a Mobile Order & Pay feature on their app, which allows users to place and pay for orders before arriving. Adam Brotman, Chief Digital Officer at Starbucks, said Mobile Order & Pay "represents the fastest technology application rollout we have ever done."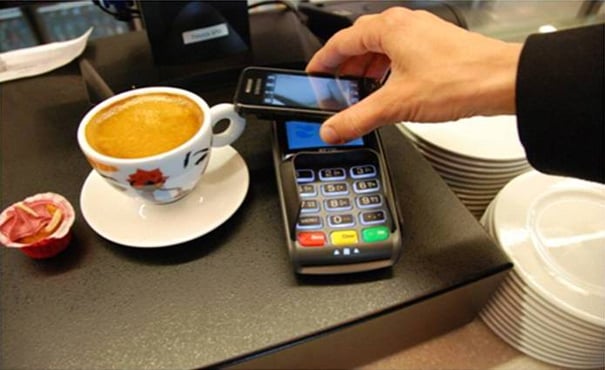 Convenience Makes Its Way To The Grocery Aisle
Apple Pay is rolling out to hundreds of grocery stores as well. These grocery stores include Associated Food Stores, Shaw's Supermarkets, Jewel Osco, and Albertson's, just to name a few. Taking a different approach, Kroger is testing an alternative mobile checkout method, allowing customers to scan and bag groceries as they shop, using a special barcode at checkout to finalize the sale. In the latest expansion, shoppers can now scan the items using the newly developed Kroger mobile app. "Customers tell us they love scanning and bagging and seeing their grocery bill while they shop," said Kroger spokesman Keith Dailey.
The Benefits of Mobile Payment and What to Expect
The increasingly multi-tasking consumer has led to rapid technology growth, which means a higher demand for convenience and time efficiency. Mobile payment fulfills both of these requirements while offering promise of security and an eco-friendly approach to purchasing. So what's next? The opportunities for mobile pay are endless, not only in food service but also the retail and grocery industries. We'll be sure to keep you updated on the latest trends in mobile technology as they develop.