"On your last grocery trip, did you pay the best price for items in your basket?" So asks the download page for Basket, a grocery shopping utility that promises pricing transparency for everyday Americans.
The Basket grocery savings app uses crowdsourced data (more on that later) to provide customers pricing information on over 1 million items across 165,000 grocery stores throughout the country. Shoppers build their shopping list within the app and, for each item they enter, Basket tells them where the best price can be found within a predesignated radius.
This basically means that if a shopper wants to know if a 12 pack of La Croix is cheaper at the Safeway down the street or the Kroger five blocks over, there's now an app for that.
Same Item, Different Prices
Grocery store prices and profit margins are tricky. They vary from location-to-location within the same chain, fluctuate from week-to-week and even sometimes day-to-day, and often go on unadvertised sales. According to the app's founders, offline prices vary from 30%-40%. What's more, while roughly 10% of items in any given store are discounted at any given time, stores only advertise about 5% of their sales in their weekly circular.
"Lots of people are shopping blind. They're being price gouged just based on the stores that are close to them. The same products might be available for 30% less a couple blocks away," Cofounder Andy Elwood pointed out.
With crowdsourced information and machine learning, Basket strives to remove the blindfold, tracking historical and current pricing data for locations such as Walmart, Target, CVS, Walgreens, Sam's Club, Whole Foods, Kroger, Safeway, and dollar stores.
Massive Streams of Data
How did Basket obtain all this pricing data? By gaming the system, so to speak—or at least making it into a game. In 2014, they debuted StockUp, a game where shoppers were rewarded for taking pictures, scanning barcodes, and capturing price information on certain items within their local grocery stores. They built their shopper army to about 30,000 people spread across the country, persisting and paving the way for Basket, which had been their endgame all along.
Now, with StockUp's data, Basket is live, using machine learning to analyze trends and identify prices. When the algorithm suggests there may be some confusion about a price at a specific location, the StockUp army, now known as moderators, intervenes by heading out to their local store and checking in person. This combination of cutting edge technology and good old-fashioned elbow grease ensures pricing accuracy.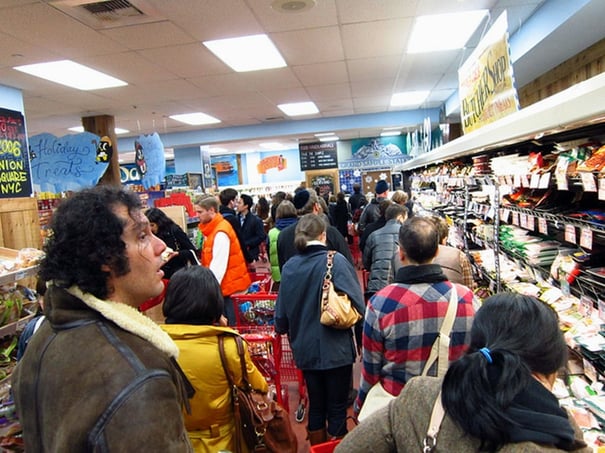 More for the Masses
This isn't just a tool by the masses, however, it's also for them. Indeed, the app's cofounders, Andy Ellwood (of Waze) and Neil Kataria position the app as an essential tool for the average American shopper left behind by technologies that cater primarily to the affluent. "A lot of the innovation in the grocery space over the past few years has been, 'can you get me the product faster?' That's interesting, but that's not necessarily the problem a lot of folks have," Ellwood contended.
Kataria agrees: "When you look at the current landscape of tech start-ups in the headlines, many of them are focused on the top 1% of our country, people who have more money than time and are willing to pay whatever price to have their soy latte and kale salad delivered in less than 15 minutes."
Monetizing Switzerland
Interestingly, Basket has no skin in the game—they don't care which store or channel the consumer chooses as they don't get kickbacks from stores for sending customers their way. Instead, "We just want to be the place where people take a look and make an informed decision that's best for them." Basket promises that neutrality is an inalienable part of the app: "Basket is, in effect, Switzerland. We have all the information, but we don't care where you choose to finish your transaction."
But then how will they make money? Where will the app go from here? Anywhere big data can take them. Essentially, they have reams and reams of information regarding customer intent; they could sell this information to CPG manufacturers or to the stores themselves, both of whom would find it invaluable. They could partner with a delivery service, make sponsored item suggestions, and do all sorts of things we can't even imagine.
With boatloads of VC funding and government subsidies, it seems they will be patient for the time being, holding out until they can find the best deal. Maybe one day there will be an app for that too.