It's turning out to be quite the year for Rihanna. The singer, actress, and entrepreneur will soon release her ninth studio album, promised to be heavily influenced by reggae, recently co-starred in summer blockbuster Oceans 8, and—most pertinently for this business blog—has overseen the rise of a bonafide cosmetic behemoth, Fenty.
Rihanna opened the eponymous brand (Fenty is RiRi's last name) under LVMH's umbrella (ella, ella) where she shares office space with some no-name brand called Louis Vuitton. Much like Beyonce's Ivy Park line, Rihanna isn't a mere frontwoman lending her name to a branded venture outside her purview. She runs the show, or at least runs the people who run the show for her.
How to explain the brand's meteoric rise when so many other celebrity beauty products have failed? Let's pon de replay and follow the retail and CPG market research to understand how these products have differentiated themselves, what it says about the current state of the cosmetics industry, and how so many consumers have found a makeup line they love in a hopeless place.
Cultural Capital and Cold Hard Cash
Fenty, which is currently available in 15 countries, has already found its pricing sweet spot. Their foundational product (forgive the cool yet corny pun) sells for $34 a pop, which is perfect—more expensive than women (and men!) can get in the local drugstore and supermarket, but significantly more affordable than the Lancômes and Channels of the hyper luxury segment.
These products literally cannot be kept on the shelf. Reports of consumers willingly purchasing the salesfloor testers are accompanied by social media complaints about certain shades (particularly the historically underserved darker tones) being perpetually out of stock. They are that popular.
Less than a year after launch, the brand has already done $72 million in sales. Yeah, go ahead and read that again. Keeping the manufacturing and retailing in-house, LVMH increased its sales by 17% by selling the product exclusively through their Sephora storefronts, and Fenty and Sephora websites.
And for all its sales magic, Fenty has earned even more cultural capital. Rihanna straight up dominated NYC Fashion Week '17—we're talking Marc-Jacobs-1992 grunge-level domination. It has been featured on some of the most respected cultural podcasts of our time and was even named one of Time Magazines 25 Best Inventions of 2017. Other winners included the Martian robot InSight, the Tesla Model 3, and the iPhone X. When your makeup is being compared to NASA, Musk, and Cook, well, you're perfectly good.
40 Shades of Every Shade...
Much of the hype has centered around her 40 shades of foundation, sold as Filt'R, which promises to have a shade for literally every imaginable complexion.
While Fenty is neither the first nor only line to cater to women (and men!) of all shades—indeed, Maybelline comes to mind—it is the first to explicitly and aggressively market itself in these terms. "Beauty for All," their slogan says.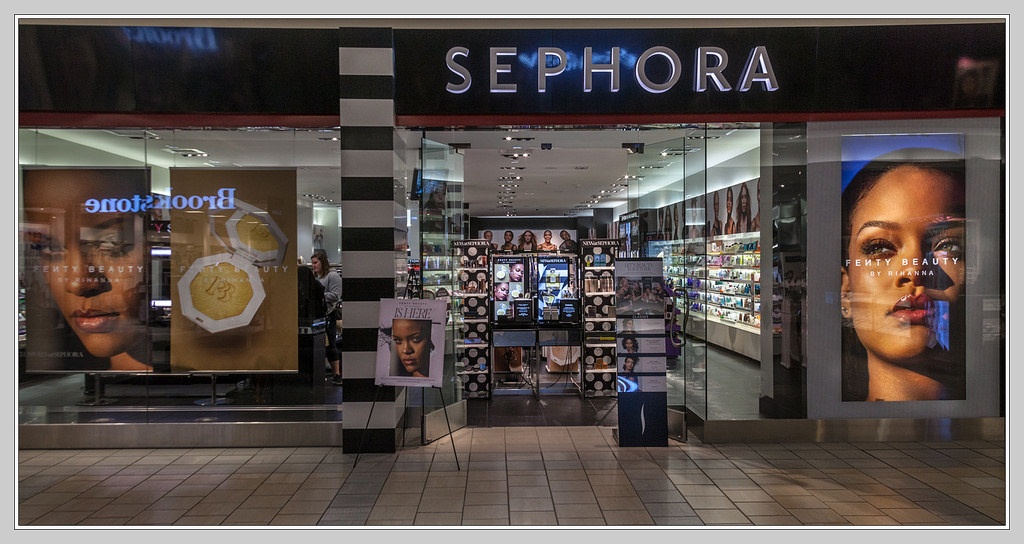 The Carribean Queen herself leans into this polychromatic paradigm as the line's origin story and raison d'etre: "It was really important for me in every product, I was like, there needs to be something for a dark skinned girl; there needs to be something for a really pale girl; there needs to be [something] for someone in between. And there are so many different shades, there's red undertones, there's green undertones, there's blue undertones, there's pink undertones, there's yellow… You want people to appreciate the product and not feel like, 'Aw, that's cute, but it only looks good on her.'"
Fenty's core message is directed at women (and men!) who rightfully feel as though perceptions and depictions of beauty products (and beauty itself) have ignored and elided them. Their core message seems to be something along the lines of: whoever you are, whatever your skin tone, however much trouble you've had in the past matching it...we got you.
This message is empowering for consumers and has proven profitable for Fenty and LVMH.
It should come as no surprise, then, that Fenty's website comes equipped with a shade finder, allowing consumers to uncover their perfect match from the comfort of their home. It is as though they are double-dog-daring them to have a skin tone they have not already considered (for the record, this humble blogger wasted about 30 minutes discovering he is a 240 warm...and then wasted another twenty minutes to discover his boyfriend is a 290 olive).
And this isn't where the marketing genius ends. Fenty is also banging at branding. Highlighter packs come with names as cool as The Only Girl in the World herself: Trophy Wife, Yacht Lyfe, and straight up Trippin', just to name a few.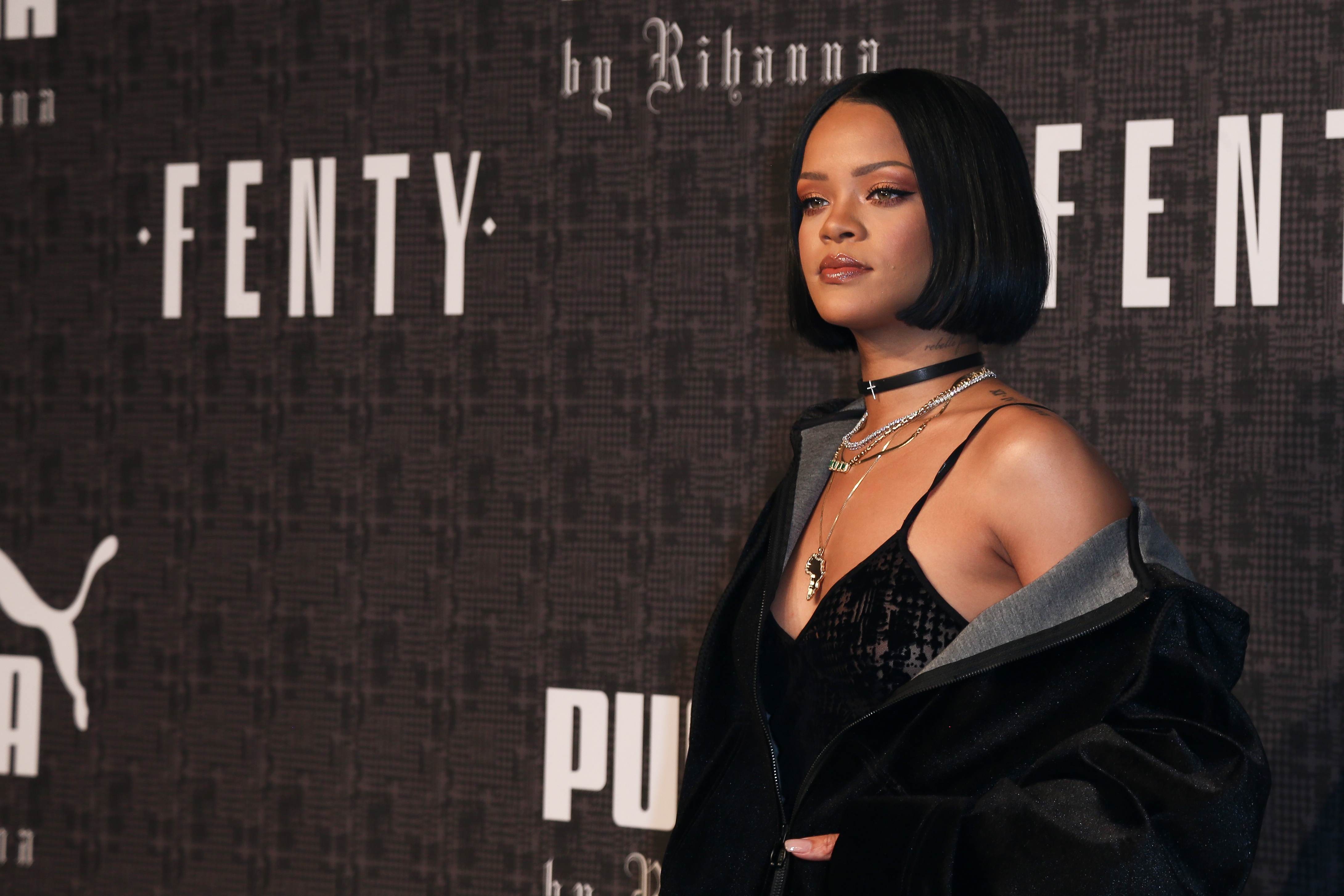 ...and Some Shade for KKW's Shades
Rihanna's successes are all the more visible in the face of Kim Kardashian West's recent failures. When KKW released her own concealer line, she was properly and resoundingly excoriated for keeping things fifty shades of white. It was even observed that she produced makeup that her children could not wear. Comparing the reception of her line to Rihanna's, it's clear just how in touch with the current social and cosmetic moment Fenty really is.
Lady Dog Better Have My Money
Rihanna is the biggest name in music this side of Beyoncé, and, like Queen Bey, she is not confining herself to the music. From her fashion collaborations with Puma to her size-inclusive lingerie, she is just gonna keep going. Whatever the future holds, we just hope she finds the time to squeeze in a Coachella 2019 headline gig. That'd be nice.