In what has become an annual tradition the first week of every year, Coachella announced its 2020 lineup and, as always, it's basically everybody who's anybody. Frank Ocean! Lana Del Rey! FKA twigs! (And that's just Sunday!)
But in addition to the biggest names in music, there will be another strong contingent swarming the SoCal desert: alcohol brands. From Heineken to AmBev's brand stable, from Cupcake Vineyards to Absolut and their hard seltzer, Truly, Coachella 2020 will also be a veritable who's who of alcohol brands looking to capitalize on all the thirst in the desert, and by thirst we refer to both the physical and the social/attention kinds.
Brands pay out the nose to quench that thirst and, in 2017, spent $1.54 billion on music festival sponsorships. What are brands buying when they sponsor a music festival, how can they maximize their return, and what's the point of serving a bunch of blacking out party kids who probably won't remember half the night anyway?
Well, put on your wristbands and practice your 'oh-my-god-I-didn't-know-you-were-taking-my-picture!' face, we are putting in the marketing and advertising market research to outline the promises and pitfalls of alcohol brands' music festival sponsorships, the opportunities embedded and the activations available within them, and the unique era of conspicuous leisure in which we currently find ourselves. I will also brag incessantly about scoring weekend 2 tickets.
Why Alcohol Companies Sponsor Music Festivals
This should go without saying but music festivals are not just for DeadHeads, music nerds, and Phish fans. Lineups check all of the popular music boxes and secure the most popular acts on the planet (ok, there is only one most popular act, her name is Beyonce, but you know what we mean). These days, festivals are a cornucopia of different tastes and interests but, no matter what type of music they are into or what type of drugs they are on, each and every festival goer has one big thing in common: disposable income.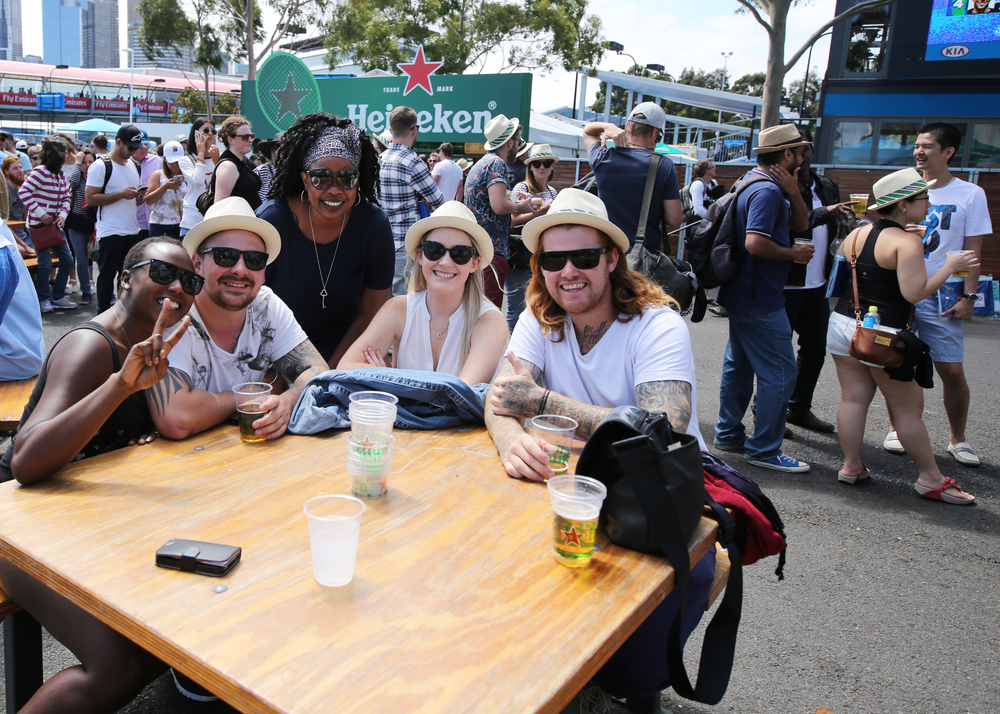 With this in mind, it's easy to see why brands would pay to market at music festivals. Let's break this down:
Millennials have developed banner blindness, becoming immune to most traditional forms of advertising, but prove receptive to experiential advertising.
Though I lack specific numbers, I'd bet that about 75% of Coachella attendees are millennials embarking on an experience binge.
Alcohol advertising is restricted in terms of form and forum.
No such regulations exist at music festivals.
So, on the surface, companies are buying the right to sell cold beer to people who are hot, thirsty, and looking to party. This is like selling bibs at a crawdad boil. We will never know how much profit a typical beverage purveyor can pull over a three-day festival, or how what percentage of that goes right back to the festival, but when you can charge $10 per 12oz beer, the money should be pouring in as fast as the beer pours out.
FOMO, Social Media, and Conspicuous Leisure
But it's not just about the direct sales over a three-day period, it's also about the social activation. Said simply, people will be posting and tagging pictures all day and all night long, and having your branding in the background (or, even better: a branded geolocation tag) makes a whole lot of impressions. Heineken hit a home run when Rihanna was photographed at Coachella kicking back with the famous green bottle, and Babe canned wine hit another one (ok, maybe a base hit) when my-far-less famous friend Fabian took this picture in front of the pink Babe Mercedes.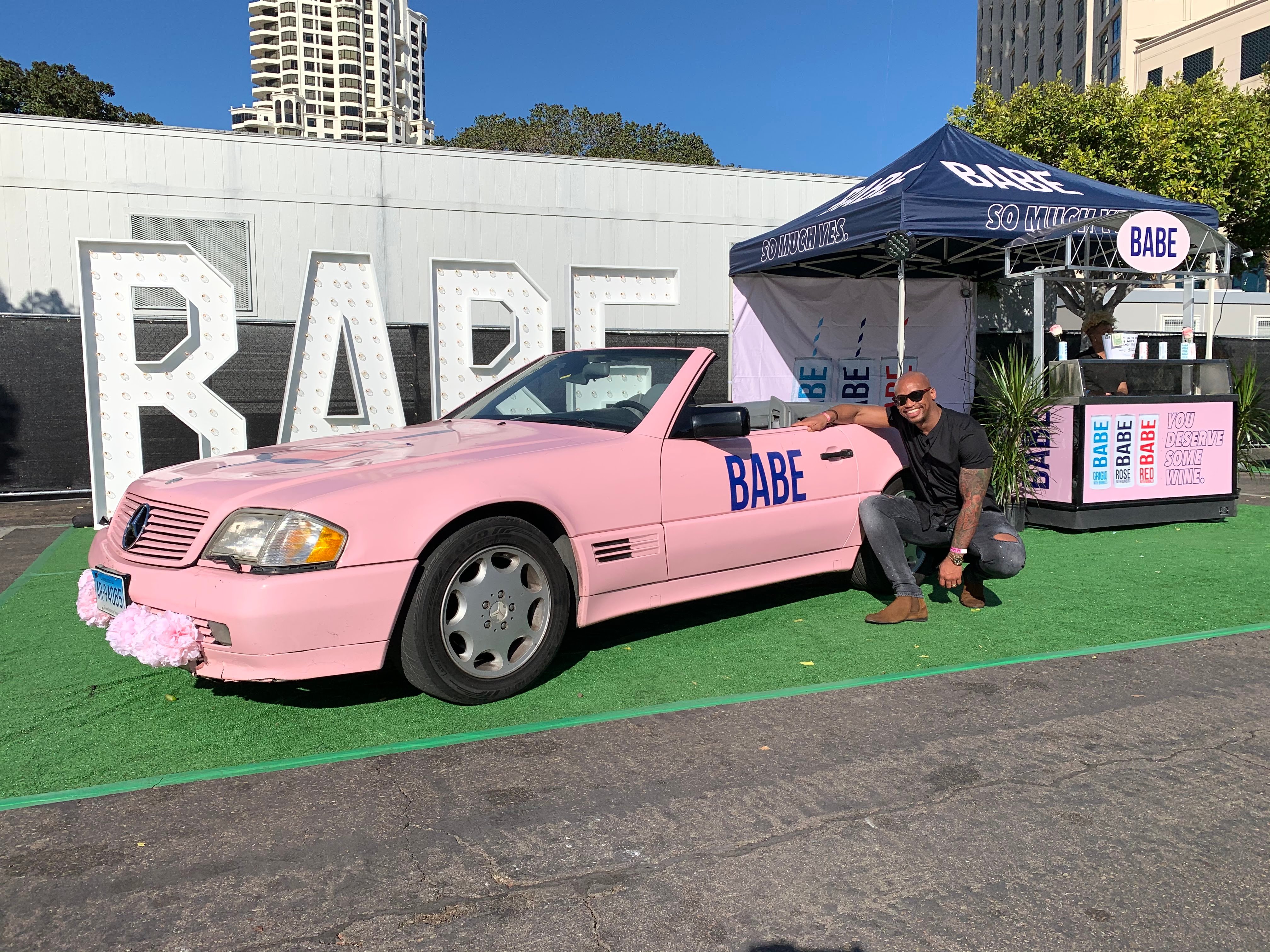 We have known for a while that we are living in the FOMO era of social relations, where posting about your adventures and excesses is as important as the experiences themselves. It's not enough to be in the pit for Beychella, you gotta throw the receipts up on the 'gram.
If the excesses of the eighties and nineties were defined by conspicuous consumption (advertising your largess with jewelry, designer clothes, and cars) then this current era seems to be defined by conspicuous leisure (advertising it through social media posts about your adventurous, unique, luxurious, and effortless life). We don't wear our status as much as post it--heck, this entire blog is a humble brag of sorts since, as I am happy to remind you, I scored weekend two tickets (Frankie: you are my God, I will see you in the desert, please play the Ivy song, k-thnx-bye!).
We have become our own leisure time documentarians, and our friends and acquaintances have become our audience. Crafting the perfect post capturing you and your crew, your cuteness, and your overall coolness coefficient is the name of the game, and people (your humble blogger's man, for example) will spend an entire hour capturing and curating the perfect FOMO-inspiring post. Obviously, having your brand's banner in the background of such carefully crafted advertisement of one's social cache is invaluable.
Let's say a typical festival goer, we'll call her Bridget, is in the Heineken beer garden at Coachella, posting a photo of she and her gal pals living their best flower crown life. The Heineken banner is in the background, the geo-tag is set for Heineken Beer Garden, and maybe Bridget is even inspired to throw in a #heinekenexperience tag. Such posts are user-designed and exist to make them and their environment (which sponsors build and share) look cool.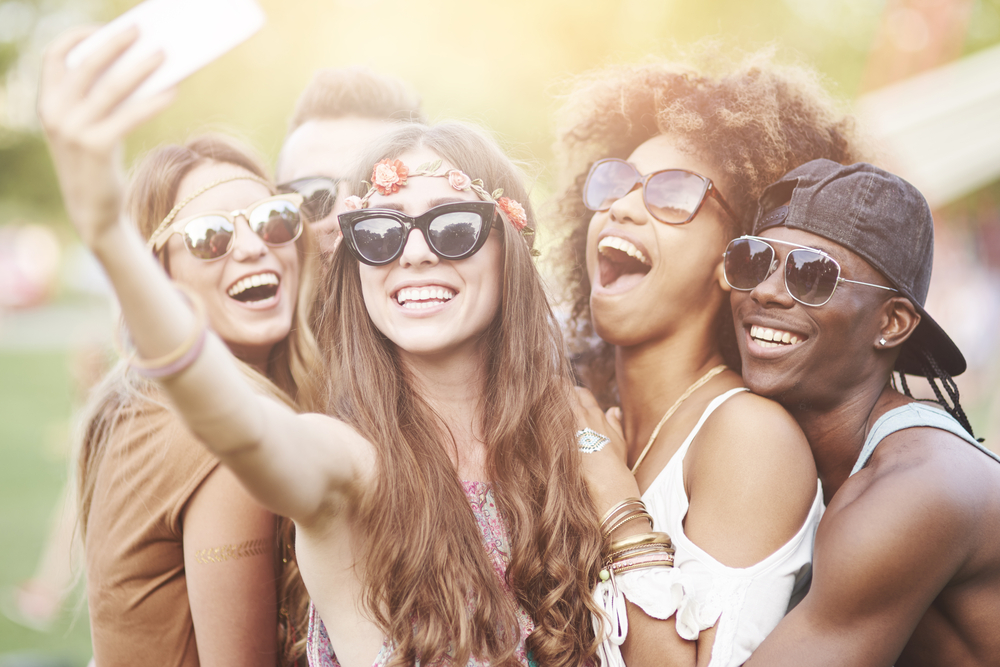 Alcohol Market Research: The Value of Festival Sponsorship
So, can you quantify and value all this conspicuous coolness? Well, not exactly. But in terms of alcohol sponsorship, we have some indicators of just how valuable all of this can be.
A 2015 study (commissioned by AEG, so shake some mandatory grains of salt into your Heineken) found that 93% of music festival attendees indicated they liked the brands that sponsored such events; 80% said they were likelier to buy a product after engaging with them at a music festival, and 37% believed they had a better overall perception of the brand after the experience.
Echoing these numbers, Jennifer Rowley's 2008 academic analysis found, "There is evidence to suggest that brand sponsorship of music festivals has an impact on brand recall, awareness and attitude to the brand." She had some cold water to add to this, however, noting there is "Little evidence of impact on brand use."
Taken together, these two analyses sound about right. Festival goers are happy brands sponsor festivals and, whether consciously or not, come to associate the brand with the good times (and probably the good drugs) abounding over those three days. Memories become a pastiche of momentary recollections and photographs, and, when looking back on that melange months later, sponsoring brands manage to become a part of this. Your humble blogger will never forget that he was in the Stella beer garden when taking this photo of his man (and no, it's not sideways--I was being artistic at the time!):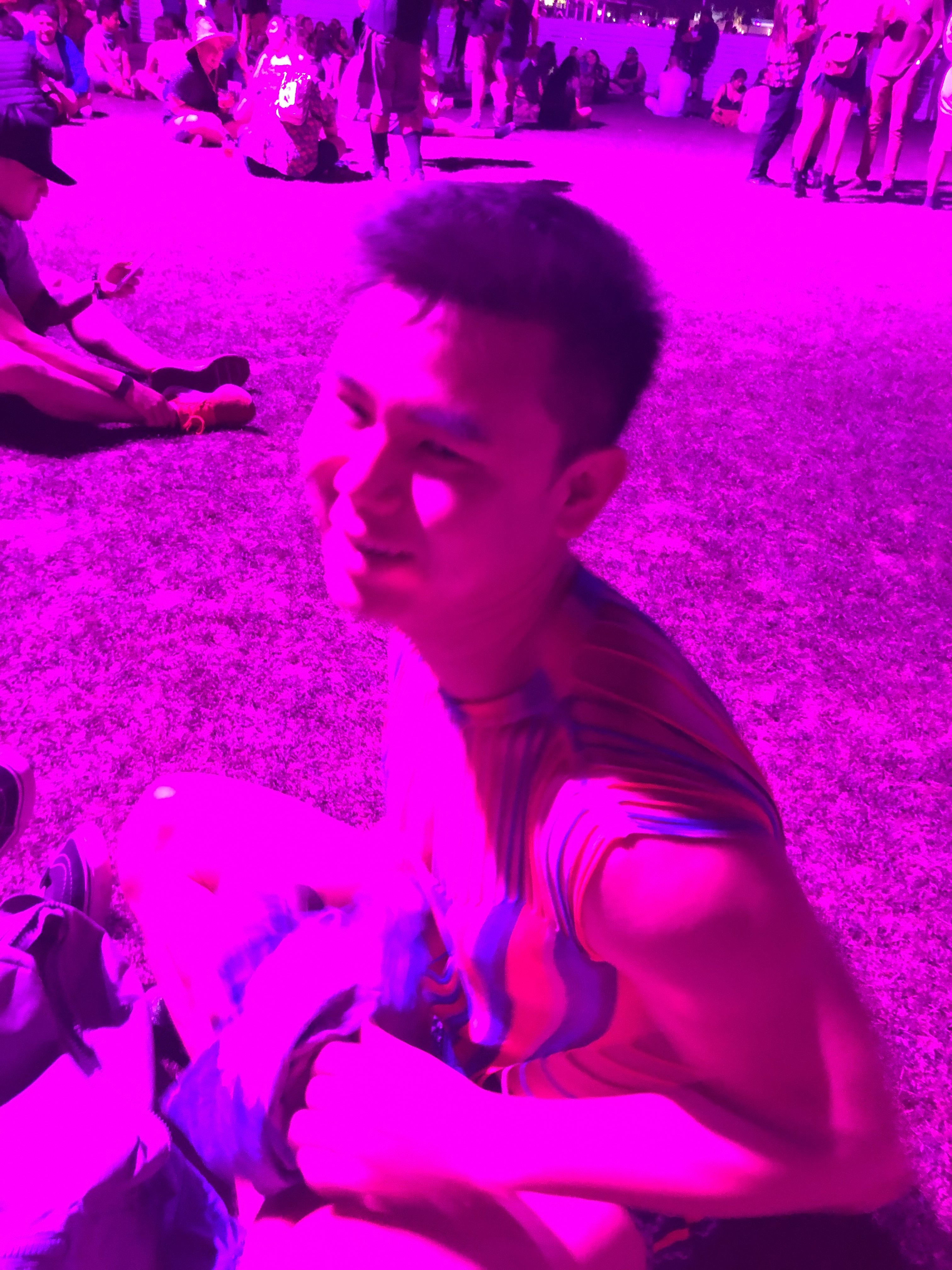 And when this pic was immediately put on Instagram, you can bet the Stella geotag was there. Now I'm not saying that we're a power couple or that we have many (many!) admirers, but there is something to be said for Stella being a part of our broadcast from the peak of our day.
So while Rowley's 2008 analysis found little evidence of impact on brand use per say, there is no way to measure to social cache gained from such a presence. I highly doubt that any of our social media followers immediately went out and bought a six-pack of Stella based on this post, but Stella nonetheless managed to insinuate itself in the middle of a whole bunch of joy, humble bragging, status signification, conspicuous leisure, and, of course, FOMO.
Cold Water, Coachella, and Marketing and Advertising Market Research
It's important to remember, however, that not every US festival is Coachella--in terms of significance it has no rival and in size and scope only a few: Lollapalooza, Bonaroo, SXSW, EDC, and maybe Ultra. So sponsoring a music festival isn't a one-way ticket to influencer avenue. Your humble blogger has seen many a sad, empty beer tent at lower-tier regional music festivals owing to smaller crowds and sponsor saturation.
That's why, when the getting's good, like it is at Indio's Empire Polo Club for two three-day weekends a year, brands are dizzying themselves with activation opportunities. Consider Heineken, which in addition to its own place in the beer garden, also throws pre- and after-parties, offers branded swag like bottlecap headphones, and hosts a cool down space to beat the desert heat. They have also debuted several beers at the festival, experimenting with chile-infused and other novel beer types that give the festival an aura of exclusivity while also proving a testing ground for future pilot programs.
In fact, companies like Heineken run six-month social media campaigns around their Coachella sponsorships, priming consumers months in advance to expect and even them out once they get through security and ID check, and reminding them of all the fun they had in the months after the festival goes dark.
All this clever campaigning isn't just a series of shots in the dark, of course, it's the result of carefully crafted marketing and advertising market research. From selecting the right festival to developing and executing the perfect campaign, market research is essential to planning and carrying out a Heineken-level marketing coup and should be a part of every decision-making process. Because a few months from now, when I'm living my best life trying to make eye contact with Frank Ocean, you can bet I, and everybody around me, will be doing it with a branded cup in one hand and their phone in the other.
Yeah, Coachella is the worst. But it's still the best.